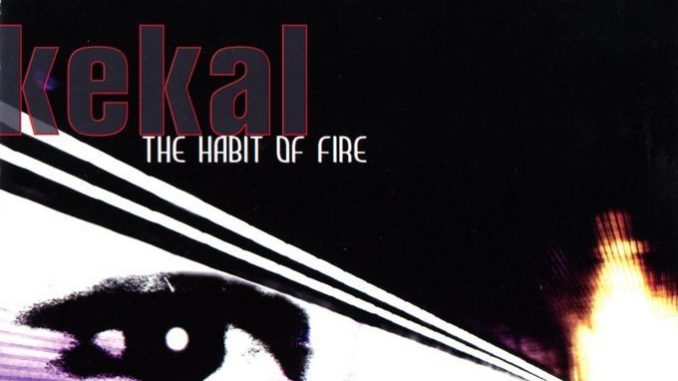 This is vibrant interesting metal of a decidedly experimental nature. From the first track "The Gathering of Ants" it has you hooked. Ripping melodious but heavy guitar work compliments a variety of rhythmic and vocal approaches all coated in an atmospheric sheen (benefit of background synths/samples as well as a great production). The sheer tonal arsenal at this band's disposal is an aural pleasure, especially coupled with song-writing (a concern often un-addressed by a lot of AGM). The second track features vocoder parts, adding to the decidedly unearthly ambience. Coupled with the growls and the progressive musicianship, there are shades of Cynic as well as later Septic Flesh here, without copying the sound of any one act. And what chops they have!! The axe-work is some of the tastiest I have heard in a while.
Over the course of the album, the band's trademark becomes more clear: trippy guitar parts coupled with strange clean vocals, and very occasional industrial growls. "Manipulator Generals (Part I of Dictatorship), shows how far the band has progressed from their more traditional metal roots, with the haunting melodies and alternately eerie arpeggios and dissonant guitars moving forward on the backbone of samplers and drum machines as well as live percussion, going into totally bizarre ill-bient midway, and ending with a truly strange sludge-funk freak-out outro.
Strangely the album gets spacier as it progresses. The lyrical and thematical content deals with the political and personal (as far as I could make-out). The eerie vocals couple with the heartfelt motifs to tell the tale. It is original (showing clearly a unique vision from a unique culture, closest reference being some of the more experimental Japanese metal outfits) and emotional (as exemplified by "Our Urban Industry Runs Monotonously"), making for a truly satisfying listen. The heavier more extreme metal elements are few and fluidly interspersed in a sea of musical vitality, the chord changes showing a jazzy flavour as indebted to 70's fusion outfits as to 90's metal (check out "Part II of the Dictatorship"). In places it's like a prog metal band that has matured enough to let go of the hair/shred metal retentiveness and reaching for the outer limits. The last 2 tracks round off the album with a serenity (the almost BM trip-hop of "A Real Life to Fear About") that can only be born of burning in discontent. In fact the closing epic (almost 15 minutes) may molecularly re-arrange the awareness of the listener into an avant garde metal revolutionary, what with its thematic gist and bizarre twists and turns.
All in all, this is genius (a word used too easily, but here completely justified) and is on my personal top-ten list for 2007. And yeah, a big thanks to Chrystof for sending this one my way. Also, don't forget tot checkout the interview on this very site.
-Suleiman
VITALS:
Release:  2007
Label:  Whirlwind Records
Avantgenre:  Urban Avant-Garde Metal
Duration:  70:40
Origin:  Indonesia
Official site:  http://www.kekalonline.com
Review online since:  14.10.2007 / 10:31:58
TRACKLIST:
01: Prelude: Worldhate Chronicle
02: The Gathering Of Ants
03: Isolated I
04: Manipulator Generals (Part I Of Dictatorship)
…I. Failure Is The System
…II. The Precaution Of Aftermath
…III. Decadence And Excess
05: Our Urban Industry Runs Monotonously
06: To Whom It May Concern
07: Free Association
08: Historicity And State Of Mind (Part II Of Dictatorship)
…I. Repeated Patterns
…II. Aftermath
09: Postlude: Saat Kemarau
10: A Real Life To Fear About
11: Escapism
…I. What On Earth Am I Here For?
…II. The Habit Of Fire
…III. Subterranean Passageways
…IV. A Road Above, A Road Ahead
…V. Finding A Way To Stand Up Again