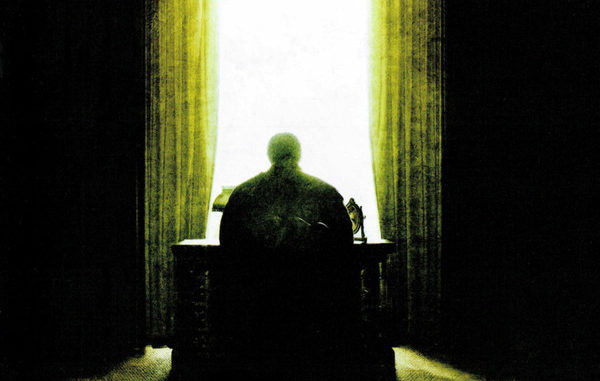 There's no obvious reason for reviewing a not really new album by Opeth on this page, isn't it? We all know: nowadays Opeth just sounds like Opeth, and if Opeth creates a record it's more a question of where to place it between experienced top quality and excellence than if the record is "good". But of course a band which decorates the covers of the world's greatest metal magazines must somehow please many listeners with a catchiness that strikes the quest of any avant-garde art, and since the band obviously doesn't change its style to totally new sounds, there could be strong arguments for filing its music under "mainstream" and leaving the effort of reviewing it to the professionalized media.
With "Watershed" Opeth nevertheless continues its individual quest to perform autumnal music touching and spellbinding the listener, and along the way combining two music styles which were never thought to be bound together: the mostly Swedish version of prog rock and death metal. The album starts with "Coil", a short solemn piece based on acoustic guitar, sung by Mikael Åkerfeldt (of course) and Natalie Lorichs, whose performance supports the atmosphere of a fragile melancholic beauty, before the second track "Heir Apparent" bursts with sheer intensity, reducing doubts whether the new drummer Martin Axenrot fits into the band within few passages. The first minutes of "Watershed" clearly sketch the general line of approach: the music is more varied than before, drawing a lot of power from playing with contrasts, extremes and (in the true sense of the word) occult ideas as there are many details you recognize after a handful of listening sessions. Song three, "The Lotus Eater", combines death metal madness in perfection with the Swedish sort of melancholy omnipresent in the folk-influenced prog rock version which itself is open towards jazzy arrangements – I guess analyzing short sequences could end up in discussions of records and artists who undoubtedly deserve to be labelled under "strange, forgotten (questionable) jewels". Opeth's nowadays incredible ability is to never loose its red line and to bind the listener with strong melodies and harmonies. Well, I experienced the fourth track "Burden" as really cheesy and loved it immediately for not obvious reasons, but as Åkerfeldt explained that it's heavily inspired by some seventies music of the Scorpions which had a strong impact on me as child, so… the vocal performance of Mikael has once again improved, surprisingly on the whole spectrum: his clean vocals are stronger, but also his growling has turned more powerful and fierce and in regard to the band's history it's not at all self evident that Opeth still strives for new extremes. To metal listeners this development might not seem that obvious, but from a more open angle it's just awe-inspiring to realize how playfully the band approaches different musical fields and includes their characteristics naturally into its own sound. Already some years ago Opeth seemed closer to Paatos and Landberk than to most other metal outfits, but with "Watershed" Opeth has created a monument transcending the barriers between "old" and "new" music, between the enormous potential of brutal death metal and sensitive rock and chamber music arrangements. "Watershed" might at first seem too neat for avant-garde metal, but the longer you listen to the record, the more hidden melodies, voices and layers you'll discover…
Of course none is forced to share my enthusiasm, but for me this record marks the peak of Opeth's oeuvre so far. The production is close to perfect in every regard: extremely powerful and majestic on the metal edge, very sensitive on the other side. None of the musicians carries his playfulness to excess, but in the end everybody is servant to the songs. The sublime sinister artwork of Travis Smith is created in fine tradition with the band's last albums and since you'll surely know the cover well, I chose to include another part of the artwork which in my humble opinion reflects the strange horror kind of interludes of "Watershed". As you will have read elsewhere before, the booklet features no lyrics and just one page of cryptic signs, so Smith's permutations of Åkerfeldt's visions can unfold themselves in full – ahem – cryptic beauty.
The deluxe edition of "Watershed" features a DVD with scenes from Opeth's rehearsal room, mixed with excerpts from interviews with the band members which is as nice as pretty naïve. Who expects a band like Opeth to tell anything else than that all band members gave their best for the record and that they are but masters of their instruments? But as they also make fun of each other, this documentation is sympathetic to me and maybe I'm not the only one who thinks that Åkerfeldt's strange taste can't be reduced on music only (his record collection is rumoured to be legendary weird) since he presents himself a. o. with a Conan-shirt. Moreover the DVD features three bonus tracks which have been separated from the album for obvious reasons. The cover version of Marie Fredrikson's ballad "Den Ständige Resan" as well as "Bridge Of Sighs" are relaxed, only "Derelict Herds" makes you remember Opeth's roots. It's been a long way from "Orchid" to "Watershed" and on the one hand Opeth still sounds the same, on the other hand it's still unbelievable after all these years how much the band pushes itself to refine its sound repertoire.
-Thor Joakimsson
VITALS: 
Release:  2008
Label:  Roadrunner Records
Avantgenre:  Melancholic Death Metal / Prog Rock
Duration:  55:00
Origin:  Sweden
Official site:  http://www.opeth.com
Review online since:  20.09.2008 / 15:47:14
TRACKLIST:
01 – Coil
02 – Heir Apparent
03 – The Lotus Eater
04 – Burden
05 – Porcelain Heart
06 – Hessian Peel
07 – Hex Omega