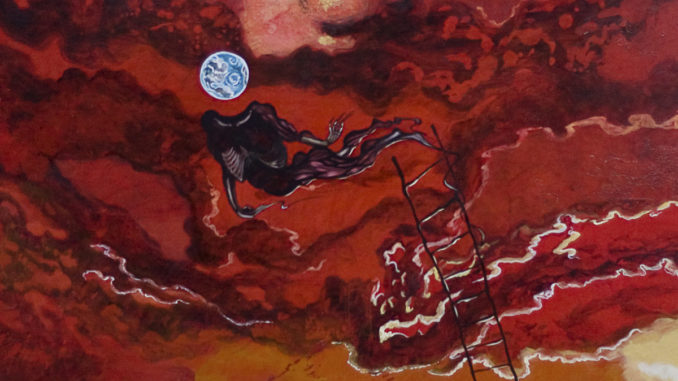 The great thing about Kilt. is their vague familiarity – on their debut album, Everything/Nothing, an attentive listener can hear vague traces of other established metal acts, whether with the downtuned rhythm guitar pulse that anchors many of the songs, or the cyborg-haze of the ambient production, or the more melancholic combinations of downbeat passages and melodic vocal lines. But though there are some distinct influences acting on each piece of the band's sonic formula, the sum of the parts is often quite unexpected, through some strange musical alchemy that one can really only notice after the fact.
Kilt. at its core is an instrumental group, featuring two guitarists, bass, drums and ambience that seems to be produced and triggered by either synthesizers or carefully chosen samples. There are three tracks on the album that seem just to show off the group at it's core – "Are We Going Out Tonight, Honey?" "On a Stolen Land," and "Statistics" – and they demonstrate the group's songwriting capability, as the songs move fluidly between downtempo trip-hop passages, tense ambient/industrial sampling and highly technical rhythmic thrash, and for Kilt. at their best, there appears to be no clear barriers between the genres. There's a lot of bleed back and forth between the influences, and if that means doubling a drum line with some aggressive sampling, borrowing particular tonalities uncommon to metal or just having locked precision when shifting between styles, Kilt. attempts and succeeds, for the most part. When working with their collaborators (which includes five vocalists from various Finnish bands, Timo Hanninen providing string arrangements and Olli Rautiainen providing brass, the band reaches sublime levels. Note the menacing brass melody on "Oh, What a Sight," amidst the loping rhythm guitar riffing, or the on-edge breakbeat of "Manoeuvre" pushed into extraordinary places by the half dub-reggae, half Balkan-brass trumpet solo. The band is clearly quite lucky with vocalists as well, Jessi Frey of note providing excellent vocal performances on "Undo," and the extraordinary "Sigma Fay." The band's major misstep is here – in trying to force the trip-hop element to be more prominent in places, the vocalists are often subjected to unfortunate compression effects like those common to Portishead's first album. To my ears, this is unnecessary – all of the vocalists sound like they've got the talent to hold down their parts, no matter what sound they're required, and the effects diminish this noticeably.
"Everything/Nothing is an album that deserves to be listened to on CD; I was not thoroughly impressed by their Myspace offerings, and I realized listening to them after hearing the CD, that the fidelity of the Myspace Player didn't allow this listener to appreciate all of the work in layering and production that clearly went into this album. The album art is firmly rooted in early surrealist imagery, and provides a nice, busy visual counterpoint to an extremely enjoyable album. Kilt. takes a rein each from groups as disparate as Meshuggah, Akercocke, Arcturus and …In the Woods, and synthesizes these ingredients into a worthwhile new creature, enhanced by electronic elements but not overwhelmed by them, and often able to permute itself into gold.
-Adam Matlock
VITALS: 
Release:  2009
Label:  Unsigned
Avantgenre:  Pummelled By Melancholic Post-Humans Metal
Duration:  46:29
Origin:  Finland
Official site:  http://www.kiltdot.com
Review online since:  21.07.2009 / 22:07:49
TRACKLIST:
01 – Are We Going Out Tonight, Honey?
02 – Undo
03 – Then We Die
04 – Oh, What A Sight
05 – Dear Truth
06 – Human Failure
07 – Keptet
08 – Manoeuvre
09 – On A Stolen Land
10 – Statistics
11 – The Verdict
12 – Sigma Fay