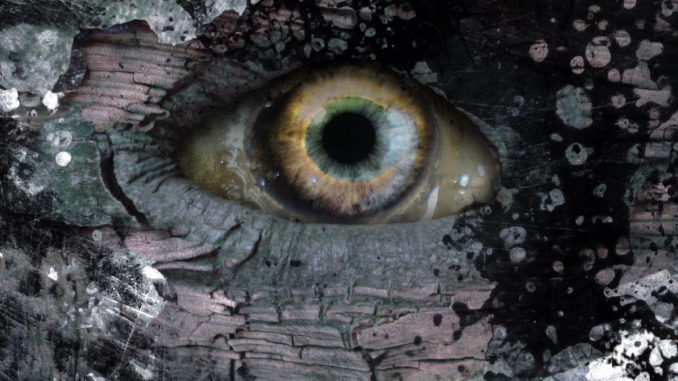 One of the two parts of KERBENOKs stunning debut album was called "On Wild Pathways" and it seems to me that the band still explores the savage and thick brushwood far away from the contemporary highway networks on which you can easily override long distances and explore new surroundings within a relatively short period of time. Even today KERBENOK travel by feet and obviously can't disengage themselves from the deep roots in the blackened metallic soil, whatever plans they make to discover new horizons, whatever musicians help them to realize their visions and whatever path they walk upon.
"O" has been described as the North German band's first full length album in other media, but in fact this is KERBENOK's second long playing record (after their self-released double album) and it's once more full of surprises, uncommon tempo and style variations, unusual folk instruments and fascinating ideas. Only few bands can proudly claim that their music sticks out of the mass, but this duo has the right to do so without doubt – but that doesn't necessarily mean that we as listeners can enjoy the creations of undisputed geniuses. Sometimes I ask myself where the band wants to go with its music and I come to the conclusion that it's maybe still undecided and thus we might remember the early works of other bands and keep in mind that KERBENOK is a quite young band with a lot of potential. But in contrast to (for example) In Flames – whose debut album back in 1994 combined extreme metal and beautiful folk passages as well – KERBENOK doesn't concentrate on one main direction, but turns here and there and nearly everywhere. This makes "O" an adventurous as well as a strenuous exercise between harsh black metal, ambient, folk and music free from concrete stylistic categories. I experience the black metal vocals of Stefan as too limited for this approach, whereas guest vocalist Loretta's contributions add a lot of atmosphere and beauty to the iridescent compositions.
What I miss to recommend this album without reservation is the sovereign spirit which characterizes e.g. the better works of Borknagar, Solstafír or Negura Bunget – this ultimate will not only to explore, but to conquer and to establish new and lively visions of quite borderless metal music. I experience KERBENOK somehow as successors to these bands with enough energy and individual ideas to move out of their shadows, but it seems as if the time isn't ripe for that decisive step.
So what can you await from a band located in the black and pagan metal scene who since its first release offers different ideas and perspectives on many artistic levels? – In this case 71 minutes of untamed different music and more than a single idea of how KERBENOK might enrich the metallic underground with their enterprising spirit in years to come.
-Thor Joakimsson
VITALS:
Release:  28.11.2008
Label:  Northern Silence
Avantgenre:  Inspired Black / Pagan Metal
Duration:  71:26
Origin:  Germany
Official site:  http://www.kerbenok.net
Review online since:  28.12.2008 / 11:30:07
TRACKLIST:
01 – Aus Der Stille…
02 – Heimstatt In Trümmern
03 – Die Schwere Unserer Glieder
04 – Im Kreise Ziehen Wir Unsere Runden
05 – Waldfrieden
06 – Frihet Er Vaares
07 – Verstandes Klinge
08 – Lys
09 – Hardangervidda
10 – In Das Was Noch Kommen Mag