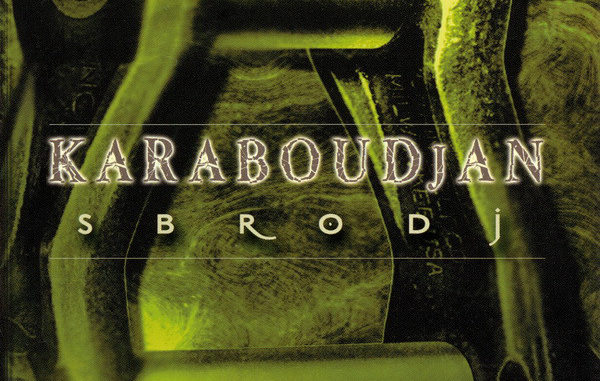 Sbrodj is a region of the fictional kingdom of Syldavia. There is a shuttle base in that region or something, I think, from where Tintin took a trip to the Moon. There, in the Moon, is where Dan Swanö must have gathered the inspiration to write this (there is almost no doubt for this, seeing that he titled his wonderful solo album Moontower). The strange thing is that the first song starts with a calling to all passengers of a flight not to Selene, but Sydney. This is explained in that each song refers to an episode, the first one being Flight 714.
The lineup in Sbrodj (the ep) is quite mysterious, in the booklet we see a lot of people but it's supposed to be just Swanö, using a lot of different pseudonims taken from the Swedish names of several Tintin adventures' characters. Even the name Karaboudjan refers to the world of Tintin. Weird, huh? It's unknown if it's really only him or he used some collaborations, but there are saxophones and all, in a way, I'd say, that John Zorn could do but more chaotic and primitive.
The music is even more mysterious but it is not the only word, some people think this Sbrodj could have been another work by Pan.Thy.Monium, the other and maybe better known experimental death metal project involving the Swanö brothers (Dan and Dag), so weirdness and heaviness is assured.
The first song, Plan 714 Till Sydney, starts with a groovy distorted and low riff that could be Black Sabbath… until the Swanical guitar solo enters. His personal mark is listenable during the three songs on the cd. Following that nice and melodic solo we find the first weird moment, with what sounds to me like a guttural fat space frog transmuting into other sounds and voices. Soon we, get back again to normal, hear a nice synth that lasts for few seconds until the next groovy riff supports another effected melody from space. Black sabbath again, three minutes of playing, an even slower/heavier riff, and we are further than outta space. We hear what must be the saxophone playing just sounds, and then more groove, solos, sounds, synths and all until the end of the song. Wow, that was great. This is extraterrestrial, progressive, groovy, heavy and yet melodic. Who the hell can describe this? That's a good thing.
Second song, Den Svarta Ön. Starts with a heavy Arabic influenced riff accompanied by a synth and someone rings the phone from Earth, I suppose, as very soon we are floating outside of the Moon in a slow motion heavy riff. The following is a very nice atmospheric rock which progresses for some time, never leaving space. But what have we here? Groovy percussion! Another synth! What sound is that!? Argh!?! What happened now? It seems we had an alien encounter and they were not much friendly, but at the end we got a nice relationship with them together with swanical space solo like only he knows how to do. Melodic, beautiful, epic, fucking rocker, but we never left the 'outside of Earth' feeling. At four and a half minutes we try to atmospherically communicate further with even stranger species and get one of the most annoying yet awesome breaks, the species are friendly so more rock and roll! This almost final part is even danceable, and what comes next makes me think of Black Sabbath on even more LSD. The out-there distortion contributes to that, also the somewhat psychedelic solos. Weird coda and this ep is just getting better and better. That was seven minutes of awesome, otherworldish prog space rock and roll.
Den Mystiska Stjärnan carries on with the stoner/sludge atmospheres of interstellar travel, but the second riff is maybe the most Black Sabbath one. When I say Black Sabbath in this review, I'm talking about their proto-doomy era, of course. Wait, this is getting strange (even more). There are some unexpected fills indeed, all over the ep. It's the last song and I haven't missed any singing, it's better without it; the melodies, atmospheres and beautiful swanical trademark solos make the experience more than satisfactory as it is. At half way on the song, the music starts to freak out, we hear the "thrashing" that the sax is suffering from, some grindcore/jazz a la John Zorn, but much more primitive and undecipherable, mixed with voices of aliens screaming (or maybe they are just happy and express themselves like that?). I think that is not a saxophone but the speech of the people from the Moon. These three last minutes are noisey and annoying, but it does not make any bad. The rest of the cd is so good that how annoying the last minutes can be is of none importance.
The sad thing is that this is the only release Karaboudjan got, as well as Moontower is the only release of its kind, but both being one-man projects I hope they are not swansongs but just collections of Swanö's songs that shall be continued.
-Adryuu
VITALS:
Release:  29-5-2001
Label:  Relapse Records
Avantgenre:  Swanical Stoned Sludge Space-Rock
Duration:  19:56
Origin:  Sweden
Official site:  http://shop.relapse.com/artist/artist.aspx?ArtistID=10058
Review online since:  02.12.2009 / 13:47:26
TRACKLIST:
01 – Plan 714 Till Sydney
02 – Den Svarta Ön
03 – Den Mystiska Stjärnan