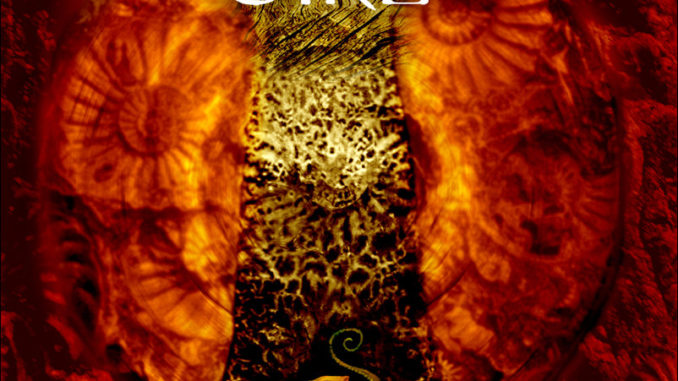 What I'm holding in my hands right now after a long wait and six demos is Gire's first, self-titled album which is definitely deserves some spotlight. Although being "sunk" in the metal-for-masses metal scene of Hungary Gire succeeds to reach the ones with sophisticated taste for the original and the creative.
The brain of the Gire-system is Tamás Kátai, one of the most respected people of the Hungarian (underground) Avantgarde scene. He writes the lyrics, they are Kátai's poems in fact, he loves the Fall, so the lyrics are (in Hungarian of course) mostly about anything which can be connected to Fall in an impressionist, an expressionist, a symbolic and of course a decadent way, so it's not just writing about the yellow and red falling leaves. Frankly, it's hard to understand the real meaning behind his lyrics even for a Hungarian. (Kátai also has a poem-collection printed and sold out.) Every song has its own story and there are some about culture and the mankind too. Almost every song provides a more than five minutes long journey into a gray and green, rainy day of Fall and in some cases into shiny, warm but the last days of summer. A couple of translations of tracks to illustrate it: Green Shower (Zöld zivatar), Golden Dawn (Aranyhajnal), Seven Birds (Hét madár), Run of the Deer (Az özek futása). By the way, there is a covered song on the album called Trans Express originally played by a forgotten Hungarian band, Necropsia. For "further feeling" check the video clip of Az özek futása on youtube.com. By now we know a bit of what it's about.
The music of Gire characterized by the heavy, death/thrash metal like guitar playing and the various ambient sound effects, folkish instruments, like Jew's harp, violin, tilinkó and kaval (these two are Central-European wind instruments) and mainly by the programmed drum machine's sound which is now the brand mark of Gire, the band is almost unimaginable without it. On the album one can find growled, shouted vocals and clean, narrative like vocals as well.
The album is available only in digipack edition with the most beautiful cover and artwork I've seen in my whole life. The booklet is just so amazing (most of its pictures are taken by Kátai himself) and they really mirror the feeling of the songs and the whole album.
In my opinion it's the best album of 2007 till now. It's really had to be felt, not listened.
-revon
VITALS:
Release:  2007
Label:  Unsigned/Self-released
Avantgenre:  Deep Journey Into Fall And Death
Duration:  01:02:55
Origin:  Hungary
Official site:  http://gire.hu
Review online since:  26.08.2007 / 18:38:36
TRACKLIST:
01 – Zöld Zivatar
02 – Aranyhajnal
03 – Hét Madár
04 – Éjmély
05 – Az õzek Futása
06 – Törjön Testünk!
07 – Bábel
08 – Eocén Expressz
09 – Nyártáj
10 – Trans Expressz
11 – Nádak, Erek