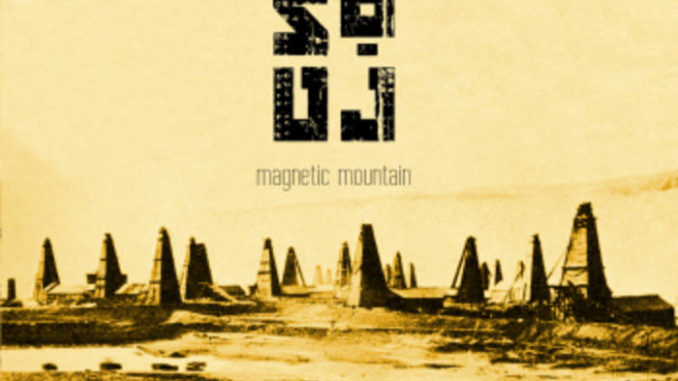 UNSOUL – a band formed 2003 in Berlin, Germany. 2008 sees the release of their debut, "Magnetic Mountain", which as been recorded and mixed 2006 to 2007; at, as the booklet states, various locations throughout Berlin. To be frank, I was a little alerted when I read this – There is a saying in germany which goes "Viele Köche verderben den Brei", which means something like "too many people involved can't be good". Luckily after listening I can say that "Magnetic Mountain" does not at all sound like several parts pasted together into one album.
UNSOUL present us technical, break-filled and rhythm- orientated Death Metal with a hint of ARCTURUS. There is one thing that sets apart UNSOUL from a huge heap of bands of the same style (and which always seem to give me headache after a few songs), and that are the really interesting synths they use, and how they use them. This is where I draw my comparison to ARCTURUS, the melodies used can't deny this influence. Yet this only a small part of UNSOUL's sound and adds to a wholesome overall picture. To me, UNSOUL have their best moments when they become melody-focused; this and their tendency to experiment with sounds, weird harmonies and structures not commonly used in metal (for example the piano piece "Contratto Senza Pietá" which catapults you back into a greasy Wild-West saloon in approximately 1880, or the following track with a most interesting refrain) all in all makes an interesting and well-conceived debut album. Which, as I must point out, gets more melodic and interesting in the later tracks, and the vocals vary more, too.
Though UNSOUL have a strong debut backing them up, I am not quite sure if they have passed the border from being "only" Progressive to Avantgarde yet (as interesting as it is, but I've had that "heard somewhere before feeling", though faint, very often). This might well be only a problem for our picky AGM-noses, but I suggest each one decides for his/herself, worthwhile listening to it is anyway. Furthermore I must add that even if this review might sound as if UNSOUL do not appeal to me that much – this is in fact not true, yet the real magic starts in the second half (after the piano piece) while the first one is- okay. It seems like UNSOUL needed to warm up a little before unfolding their whole potential. In any case you should keep a close eye on them, could be it's not only me hoping for a second album.
-Tentakel P.
VITALS:
Release:  2008
Label:  Setalight Records
Avantgenre:  Nearly AG Metal
Duration:  41:57
Origin:  Germany
Official site:  http://www.unsoul.de
Review online since:  22.07.2009 / 08:17:22
TRACKLIST:
01 – Magnitogorsk
02 – Way Less Space
03 – Rebel Prostitute
04 – Swancorpse
05 – Neverest
06 – Contratto Senza Pietá
07 – Dance Your Legs Off
08 – Pre-
09 – Post-
10 – I Loss
11 – Breaking The Frames
12 – Secret City