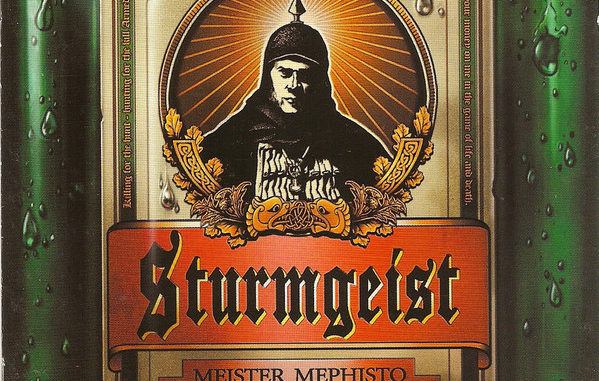 What happens when a germanophile Norwegian multitalent substitutes his blood with Jägermeister while working his way to everything important which defines German culture for several centuries? Except for a gigantic hangover the day after (believe me, I myself am no stranger to this product of the devil called Jägermeister – he sure had one) he records the album "Meister Mephisto" out of nowhere.
Cornelius von Jackhelln, one of the two masterminds of SOLEFALD, has twisted his already tweaked brain even more and formed an album that hits you with power and heaviness (mostly) unheard of in his main playground. A Pickelhauben-topped, alcohol-driven album, which wriggles itself out of musical categorization; based on German literature, mythology and fairytales combined with a (slightly) military attitude it could best be described as dark, marching, gloomy, menacing and obscure.
The first song "Ragnarok" starts with making no prisoners and marches its way into your ears, catchy and forceful with dark synth interludes and background. "Shock & Awe" continues relentlessly, and not only the title and refrain reminds of FEAR FACTORY (beware though, here you 'd have Falco fronting them and not Burton C. Bell). The "Erlkönig", a well-known Ballade in Germany, does the atmosphere of the literary model more than justice. In "Master Hunter" we get the best refrain ever: "Jägermeister, Jägermeister, das ist meine Waffe" (Jägermeister, Jägermeister, this is my weapon)(sic!)… I love it. "Rattenfänger", based on Der Rattenfänger von Hameln and in my opinion the best track on the album, we have a duet with Fuchs of DIE APOKALYPTISCHEN REITER (who is featured at least twice more, but this is his most memorable moment) – clean vocals, shredding & rhythmical guitars and Cornelius rasping and enforcing voice in combination, magnificent. "Grimmer Than Ugly" is nearly in the neighbourhood of Black Metal; yet, as the overall mood on the whole album, a bastard of aforementioned with elements of Neue Deutsche Härte. And screeching as BM it ends, with "Walpurgisnacht" part 1, an infernal ending based on Goethes "Faust" – If not earlier, at least here you will have the aha-effect when SOLEFALD's more chaotic moments shimmer through. "Walpurgisnacht" part 2 tramples on whatever is left of you, and leaves you lying face down in the mud on this cloudy and foggy night. Gründgens should have used this in his famous adaption.
This is what happens when you get in the way of the usually nice and intellectual Cornelius after his German Kräuterlikör Attacke. Don't mess with Jägermeister.
——————————————————————————–
Glossary and dictionary for our non-German readers:
Ballade – Not to be mistaken with emotion-filled, yawn-producing fillers on Heavy-Metal-albums. German Balladen are mostly filled with madness, ghosts, unanswered and manic love-feelings, and in the end, everyone dies.
Deutsch – German
Erlkönig – One of the most popular Balladen by Goethe. A father tries to protect his fatally ill son from the Erlkönig (Alder King, loosely translated), and in the end, everyone dies (Okay, not everyone. The father and the horse live. Anyway).
Falco – Austrian Rock and pop legend. Rock me Amadeus.
Faust – Goethes most important work. Doctor Faust sells his soul to the devil (Mephisto) if Mephisto is able to show him one moment of bliss he does ot want to pass away.
Goethe, Johann Wolfgang von (1749-1832) – Germany's most known and most important romancier. Please consult Wikipedia, to describe him here would mean to write the history of the world on the head of a pin.
Gründgens, Gustav Heinrich Arnold (1899–1963) – Actor, regisseur and impresario of the "Deutsches Schauspielhaus" (German theater), where he conducted the probably most famous adaptation of "Faust" with himself as Mephisto and Will Quadflieg (German actor)as Faust.
Jägermeister – A high-percentage German Kräuterlikör. Recommended only to quarter a bottle, after that it gets ugly. Although it probably does not matter by then.
Kräuterlikör – Herbal liqueur
Neue Deutsche Härte – Hard Rock + Metal (kinda) with german lyrics and stomping rythms. Examples: RAMMSTEIN, DIE KRUPPS, OOMPH!.
Pickelhaube – The prussian headgear of choice.
Rattenfänger von Hameln – German fairytale. A rat catcher solves the rat-problem of Hameln (German city) by enchanting the rats with his flute and leading them into the sea, then does the same with the children of the residents after they decide that his services should be for free. Obviously, he disagrees.
Walpurgisnacht – The night of witches, demons, devils and other nice people from your neighbourhood. Traditionally held on the night of 30th of April on the Blocksberg (mountain in middle-germany). Here it refers to the equally titled chapter of "Faust", where Faust and Mephisto visit the witches sabbat.
-Tentakel P.
VITALS: 
Release:  2005
Label:  Season Of Mist
Avantgenre:  Deutsch Metal
Duration:  46:02
Origin:  Norway
Official site:  http://www.myspace.com/sturmbruderschaft
Review online since:  19.09.2008 / 23:09:17
TRACKLIST:
01 – Ragnarok
02 – Shock & Awe
03 – Erlkönig
04 – Army Of Odin (Hafrsfjord)
05 – Master Hunter
06 – Rattenfänger
07 – Grimmer Than Ugly
08 – Walpurgisnacht – 1. Satz: Die Flamme
09 – Walpurgisnacht – 2. Satz: Meister Mephisto