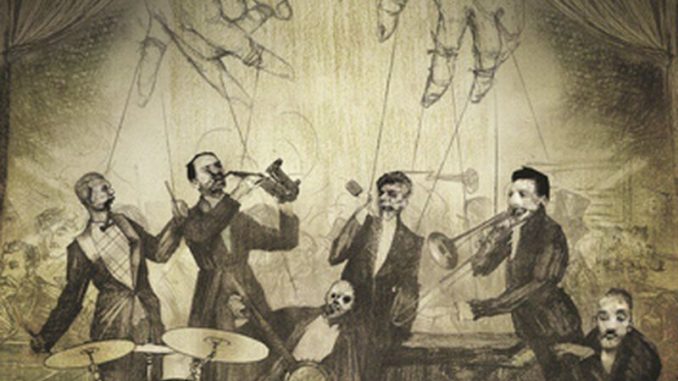 The eccentric genius of Vaerohn (mastermind and sole member of PENSEES NOCTURNES) strikes back again this year, after his contribution to WAY TO END's 'Various Shades of Black' with a new addition to the band's discography, an opus that differentiates itself from the band's previous efforts. An all the way contemporary composition that will divide many due to abatement of the black metal element to very limited sections. The norms have been long surpassed. 'Nom d'une Pipe!' transfers one to the very center of the multidimentional circus this album is, so have a seat among the dancers, clowns and the other fun fair animals because this surrealistic show is about to begin.
'Nom d'une Pipe!' is introduced to us with 'Il a Mange le Soleil' and a quick mention of Nicolas Sarkozy as an announcement just as the complicated and incongruous chords along with the discreet escort of drums cover the 'stage', before bursting together into a wild show. Bold, grandiloquent, operatic vocals as in delirium, whispers, deep abysmal screaming, all these cycled by the paranoid slides of the bass. The theatricality of the piece is particularly evident from the very first track, the show turns into chaos rumpled in and out of order. The second act features 'Le Marionnetiste' that enters with a performance to an audience that is constantly provoked by this absurd mix of jazz, opera, cabaret and black metal. Even though the album is comprised by the likes of saxophones, trumpets, accordeon, orchestras, guitars, bass and drums and much more, the interweave of each section could not be any smoother. One could say that there are as many instruments as the quirky members of this preposterous circus. All retain a place in Vaerohn's labyrinthine mind and 'Le Marionnetiste' is the perfect example of all those influences so perfectly fused together. After 'Les Hommes a la Moustache' which is pretty much an interlude we proceed futher to the show.
The atmosphere this album exudes is definitely that of grotesque, depression and paranoia. This place is damn strange. From a fun fair's craze and neoclassical piano sections to disharmonious black metal riffs, everything moves and swings back and forth, making this album an abstract rollercoaster of contrasts. 'La Chimère' is a beast of its own, an excellent, florid piece with a magnificent introduction with piano and strings that make for a great classical piece by itself. The addition of the rest of the instruments make the song even more standout, with the music box that's placed in the middle appeasing all tension before a majestic ride to end of the track. 'L' Androgyne' offers a twisted recital with a quite rare appearance of the guitars as the main protagonist. The charming chants, both male and female, give a ghostly essence to the song as it dances away, bewitched by the call of 'La Sirène'.
It is true that every song is ovesufficient of ideas, melodies, arrangements and counterplots, and while it is very clear that everything has been thoroughly thought out, it seems that this avant-garde, chaotic route that Vaerohn takes, is lacking some sense of direction, at least in a very small percentage. I am very well aware that his is not supposed to be (just) a black metal album by any means, in fact the metal elements are mainly used as a backdrop here but I feel that the songs must be reaching a destination. In 'Nom d'une Pipe!' this is not always clear due to the vague and plentiful orchestrations. Of course this is done on purpose, as PENSEES NOCTURNES' main goal is originality and artistic expression above anything else, but still.
Ultimately, this abstract piece will definately please music listeners that embrace the unconventional and sinister nature of PENSEES NOCTURNES, as well as open minds who love experimentation and do not expect just a black metal album, although 'Nom d'une Pipe!' is as extreme as it gets, just not extreme metal. 'Nom d'une Pipe!' may as well be the most enticing and bizarre spectacle you have come across in a long while.
-Lefteris Kefalas
VITALS:
Release:  30.03.2013
Label:  Les Acteurs De L'ombre Productions
Avantgenre:  Musette Black Metal
Duration:  50 Minutes
Origin:  France
Official site:  http://www.pnrecords-music.com/
Review online since:  15.11.2013 / 13:21:24
TRACKLIST:
01 – Il A Mangé Le Soleil
02 – Le Marionnetiste
03 – Les Hommes à La Moustache
04 – Le Berger
05 – La Chimère
06 – L'Androgyne
07 – La Sirène
08 – Le Choeur Des Valseurs
09 – Bonne Bière Et Bonne Chère