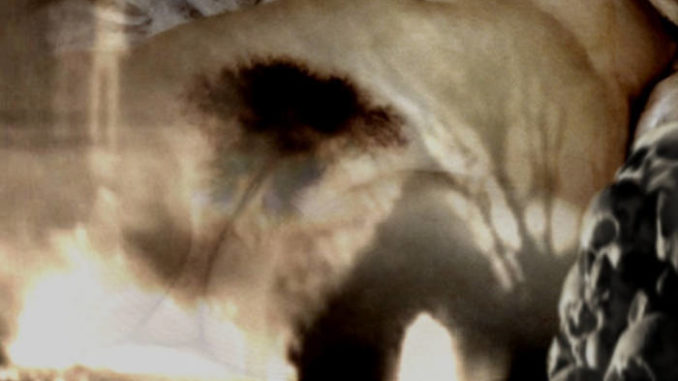 Here be goodness ! Though a bit late in reviewing this masterpiece of French metal insanity, this surely deserves a lot more hype and reviews then it actually got on its release. Though most references to this outfit describe it as some form of black metal, I found it to be more of industrial thrash release (albeit moody and blackened).
It starts out (after a short but apt sample) fast and furious with the relentless and thrashy "Smells like Divine Composition". There are nice interludes with a nice fat bass, and vocals that recall early 90's thrash. The riffing is a throwback to some classic Euro-thrash along with more black metal oriented styles. There are some nice samples along the way. "I.N.R.I" continues the catchy assault, with a great (and hum able) opening riff. The industrial elements in all tracks are reinforced by the stop start nature of composition and guitar playing as well as the various samples interspersed through out the album. The final element that firmly places NOP in the industrial extreme metal genre is the programmed drumming, that actually adds to the album's relentless assaulting vibe (instead of detracting like so many contemporaries). The vocals vary through out, going from the aforementioned thrash to hardcore shouting to black metal-ish screams often in the same song, making for some great variety. The riffing also alternates between the industrial black thrash guitar work of the majority of the tunes and some more death metal influenced tremolo picking and structures ("The Problem of Evil", also standing out for the robo-vocals and the rather melodic emotive outro).
"No Religion Know Peace" is short sample laden atmospheric piece that will hook you right in and begs repeated listens due to its brevity. Though at first the song titles seem typical of the genres, as you delve into the lyrics they appear well thought out and rather poignant in places (not to say that the album lacks some bona fide black metal clichés in places, but it all adds to the effect).
"Under the Hellspell" is a mid-paced romp through Celtic Frost in Ministry's dune-buggy. "The Absurd Song" is another mid-tempo tune that shows NOP mutating hard rock rhythms to their own twisted vision and topping it with black metal and gothic vocals. "DCLXVI" has some great guitar textures juxtaposed to create an epic sounding haunting piece. "Still Waiting" again ventures into new ground with some nice fast and melodic guitar and vocal work. Over the course of the record, I realized these guys are over the metal map in terms of sound, yet have a sense of song writing that makes it all cohesive.
I was rather surprised at the high level of quality of the recording as well as composition, in a scene that is too saturated with half-assed attempts at such sounds. This band is definitely sincere, and extremely talented. They are recommended to everyone looking for a new vitamin in their extreme metal diet. Here's to many more slices of experimenting metal madness from this outfit. The band's mastermind Ben is also organizing a Pink Floyd tribute album (??!!) which will surely be a trip in itself.
-Suleiman
VITALS: 
Release:  2007
Label:  Epiphora Productions
Avantgenre:  Industrial Black Thrash
Duration:  49:51
Origin:  France
Official site:  http://myspace.com/namelessop
Review online since:  07.06.2008 / 06:31:49
TRACKLIST:
1. Smells Like Divine Decomposition
2. I.N.R.I.
3. The Problem Of Evil
4. No Religion, Know Peace
5. Under The Hellspell
6. The Absurd Song
7. DCLXVI (Instrumental)
8. Still Waiting…
9. Forclusion Du Nom Du Père
10. Le Sens De L'Existence
11. Porno Sex XXX
12. Nihilistic Dawn