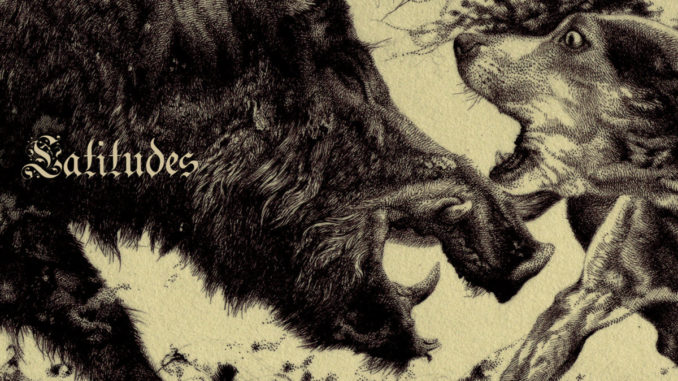 Wild, desolate and silent natural passages unfold and evolve when Myth Cathexis begins to roar. Be it the solemn giantness of a great canyon with its dry heat, or the crystal whispering of a waterfall disturbing the majesty of an intricate jungle, I witness it as I travel through the Latitudes crying out their pityful sound.
Antechamber makes me watch from a distance a scene where some being is drowning in a pond of disgust and grief, yet joyful with such a beautiful death picture, the pain turns into something more abstract, expressed by an ethereal chant.
As a merciless predator stalking its prey, the Fluxes Of The Womb murmur a ghostly dirge about the violent, slow but relentless coming of the end, a tale of a victim that cannot escape forever.
I take a rest inside a cloud while I behold Steppe & Veld far below.
How a bird falls from the sky. How the Earth shakes with an earthquake. How the clouds are formed. The name of each and every star. All is written in Braille
Under the stars named in Braille I move to the Hunting Dance, embracing the trees until the light of day makes me realize the place is a burial mound that burns with the Sun, surrounded by a shining lake full of life. But here it is calm now, except for that ethereal chant that comes out of nowhere, it has returned to haunt my dreams and fill them with despair. It is turning black again, I mourn some loss… my mourning turns into powerlessness, even rage… but then I realize I'm better off living my joyous mourning.
The stars hide. The Agonist has come to an end. All is dark, silent. But I still feel its presence. Near. My body melts with that of the Agonist. I'm the Agonist. The sky opens to me as I become one with it. I am condemned to spend the Eternity in this decrepit steppe where the stars burn with black silent fire and my throat grasps for air. The water's waves turn still again.
Such a voyage can only be fulfilled by place-warping through the Earth's Latitudes, from deserts to icebergs, letting the ears breed some sort of heavy, instrumental (mostly), modern metal with evolving phrases, chilling melodies and all the words that you could expect from a regular review. But as this album may seem regular, it is truly not, and one must read between riffs to learn about the wonders of this music. You can find similar music but there is not equal metal out there, at least to my subjective ears. That said, metal is the only word I can apply to this music of the stars and wilderness. What kind of metal? Dunno, but for sure it's not your everyday conventional, out-of-the-box, aggresive, harsh-voiced post/sludge metal. Special mention goes out to the marvelous clean and dreamy vocals present, performed by the guest vocalist Adam Symonds from Eden Maine.
-Adryuu
VITALS:
Release:  October 12, 2009
Label:  Shelsmusic
Avantgenre:  Free Metal Of The Wilderness
Duration:  42.08 Minutes
Origin:  United Kingdom
Official site:  http://www.latitudesmusic.com
Review online since:  20.04.2010 / 17:03:37
TRACKLIST:
01 – Myth Cathexis
02 – Antechamber
03 – Fluxes Of The Womb
04 – Steppe & Veld
05 – Braille
06 – Hunting Dance
07 – Agonist