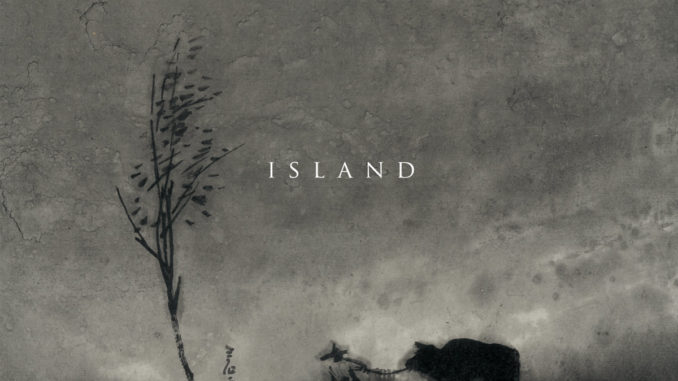 If there still is anyone out there who does not know about Zeitgeister and their various projects, stop reading and return only until you have listened to a minimum of 5 of their outputs. Words are ever so restricting if one tries to describe these projects, and the new output of ISLAND is no exception. Instead of analysing the musical ingredients of "Island" (which, by the way, are a lot less deathy than "Orakel" and sound more like a hybris of WOBURN HOUSE and GRUENEWALD) let me take you onto a little journey while "Island" plays – your tour guide is none other than guitar wizard Christian Kolf himself, who was so kind as to share some stories on each of the tracks on this output.
Jukai
Christian: Been to Lüneburg with Jan and Alwis, traveled to Hamburg from there. The next day, one before my birthday, we took a trip into the woods. There were moments when I looked at the horizon and saw eternity in it somehow. An enourmous depth.
Tentakel: A walk on a cloudy day outside. Somehow a picture of yellow skies under distorted trees and bushes comes to my mind. I follow Christian's gaze to the horizon and it is day and night simultaneously.
Waterside
Christian: The end of this song was written outside. Rafael (drummer), Stefan from NEBELUNG and I went outside to the meadows of the Rhine, Rafael with his little drumset and Stefan with his clarinet. We jammed there. This part just popped up. Later I went home by foot, at the riverside. 5 km or more. The sun rose. It was summer.
Tentakel: Maybe the calmest song. I can imagine Christian and his friends walking with their instruments along the river, and not unlike Bedrich Smetana's "Moldau" the song's mood changes as their musical journey leads the three friends along the waterside, guiding them through the night. A hint of French horns at the end of the song accompanies the sunrise.
Nadir
Christian: Influenced by ANATHEMA's "Mine Is Yours" from "Pentecost III". I remember that. I took the freedom and re-interpreted the rythm of the first riff. The songs means a lot to Rafael, because he had a difficult morning with his new-born daughter at this time. He was the first one of us all who became a father. The lyrics were written on a very bleak day while I was at work. I remember sitting there and staring out of an old window. It was raining…
Tentakel: There are indeed two faces to this song. One is bleak and gloomy, a dark cloud on a dark evening. Autumn. But there is also hope, almost soothing. If I were to get esoteric – why, I'd never – you could almost say this song represents problems we all have to overcome. It might be hard, but we'll manage. At least this is how it sounds to me. Hope.
Mistral
Christian: Patrick (Ex-VALBORG drummer) and I went to Belgium to see RED HARVEST. Must have been 2003 or so. Listened to EDGE OF SANITY. VALBORG just disbanded and we thought about bandnames; those were the early days of ISLAND. On an old boat we saw the name "Mistral". There already was a Hardcore-band with the same name. Florian and I adopted it.
Tentakel: So Christian wants us to board the "Mistral". A calm evening, grey skies. The wind blows in our faces. In the middle of the song the wind gets stronger and it starts to rain. Right before we get off the boat, it stops. A first ray of the sun breaks through the clouds.
Origin & Harbour
Christian: 2004 has been heavy. I was diagnosted a severe illness. Everything okay now, but the experience was intense. I was totally off track, crushed to the floor. Learned to love life from this. Many songs were written in this period. I had a flat together with Florian. The texts of "Origin" and "Harbour" were written on one of those evenings when I came from the doctor and hung around in my room afterwards. The thoughts – I was close to myself more than ever before, and strongly felt society and the system. You cope with it, because you have to. Is there another way? Maybe, in a hundred years or so. After the diagnosis I felt like floating through the city.
Tentakel: "Origin" feels depressing and isolated, fragile somehow. One can only guess what it feels like if confronted with one's own vanitas. I dare not try. The end of "Origin" bleaks teeth nevertheless. Confront. Be angry. Overcome. "Harbour" on the other side – A journey. Insight. Acceptance. Let go. In the end, all we can do is float. And try not to drift away too much.
Sol
Christian: The name of a friend of Florian… The text – one of those evenings… A view through the window… no movement. No band. ISLAND had disbanded and I just thought "great, one more production in vain". "Orakel" was ready at that time. I already knew Florian and how he did things with KLABAUTAMANN. I adopted this, made a homepage, sent the CD to a few magazines. After that things started a-rollin'.
Tentakel: After all these cloudy days there is bound to be a sunny one. The most conciliating song? Maybe. Maybe not. Only thing I know is that it does not feel like an end, it feels like a movie where the hero(es) walk away and the credits roll, and you KNOW the story is not over; it continues and you wan't to participate but you can't anymore, trapped in front of the screen and unable to get in… A strange empty feeling. And the right time to press the repeat-button which is the most comforting thing you can do if you don't want the magic to fade away.
-Tentakel P.
VITALS: 
Release:  2010
Label:  Vendlus
Avantgenre:  Metal Magic (so NOT 1983)
Duration:  Too Short
Origin:  Germany
Official site:  http://www.islandband.de/
Review online since:  02.03.2010 / 21:49:49
TRACKLIST:
01 – Jukai
02 – Waterside
03 – Nadir
04 – Mistral
05 – Origin
06 – Harbour
07 – Sol