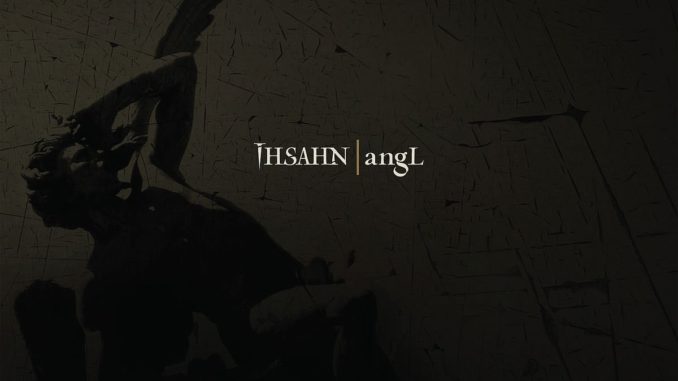 I suppose there is much controversy going on about Ihsahn: Whether you are true/untrue to like/dislike PECCATUM, whether EMPEROR ceased to exist after or before "IX Equilibrium", whether or not he is a genius composer or just a poser, whether bla bla bla… And I am sure the opinions about his latest effort "angL" will, again, spread further than Jenna Jameson did with her legs on certain gentleman's entertainment media.
I for once will continue being an Ihsahn-fanboy after "angL". Not only because I once again admire his obviously abundantly existent compositional skills; the opulently arranged songs; the top-notch technical abilities displayed on this record or (yay!) Mikael Akerfeldt's guest vocals on some tracks – but because I still feel soul in IHSAHN, because there still is this vibe going on which gives you goosebumps. Yes, the songs are very complex, technical and yes, maybe some things are only being admired by other musicians; yet while other bands elevate fretboard-wanking to the level of self-purpose IHSAHN manages to write songs that are really songs, pieces of music that might be timeless classics in some distant future.
IHSAHN's style nowadays is hard to define; it has become something which I'd just call "Epic modern Metal" with one blackened, one deathened and one old-school nuance; with bands such as VINTERSORG, CRONIAN, BORKNAGAR or SOLEFALD in the same category. His strength, and at the same time his avantgardistic touch, shines through in his way of composing which is just outstanding – there are so many elements, so many puzzle pieces with which IHSAHN juggles while still managing to keep track of everything, and more important, keeping it comprehensive so you can still bang your head to the straightforward "Malediction" before marvelling at the epic "Alchemist". Or, aside from the impressive musical display, just listen to Ihsahn's voicework – which is, as always, outstanding and shows he has not neglected his Black Metal roots.
"angL" is a perfect example how metal should sound in the new millennia – technical, yet visceral; epic yet calm; not neglecting it's roots while trying to break musical borders; varied but not overladen, and most important, it should still be performed with passion and soul, without being hindered by narrowmindedness. "angL" should contain something for everyone, and Ihsahn has once again proven his talent – at least give him that, dear emperordiedafternightsideeclipsetrueelitewarrior. Not only wolves, but Ihsahns evolve; and for good. Who's the Emperor now?
-Tentakel P.
VITALS:
Release:  2008
Label:  Candlelight / Mnemosyne
Avantgenre:  I-Am-The-Emperor-Metal
Duration:  47:19
Origin:  Norway
Official site:  http://www.ihsahn.com/
Review online since:  18.03.2009 / 19:12:15
TRACKLIST:
01 – Misanthrope
02 – Scarab
03 – Unhealer
04 – Emancipation
05 – Malediction
06 – Alchemist
07 – Elevator
08 – Threnody
09 – Monolith