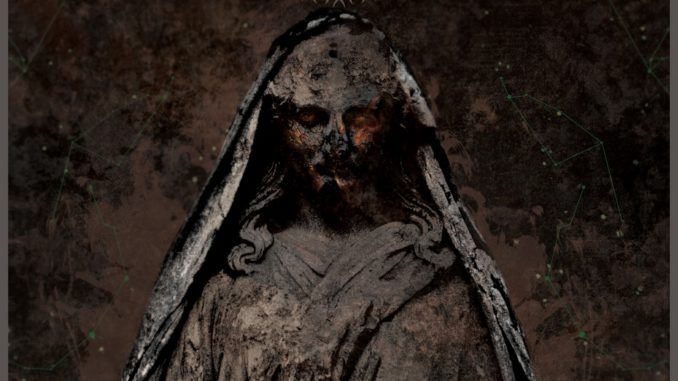 Canadian black metallers GRIS are back 5 years and a half after their debut album Il Était une Forêt… to grace us with another magnum opus. Featuring two symmetric, pairs of songs, in a two disc set that reaches a playing time of over eighty minutes, À l'Âme Enflammée, l'Äme Constellée… is a return to a journey that started long ago, rich in dynamics and totally natural, emotional playing. An album that integrates the classical and acoustic parts of folkish tradition with Icare's and Neptune's take on depressive, melancholic black metal.
'L'Aube' sets forth with an moody strum adorned with the melodious accompaniment of the violins, a building essence of freedom that is gradually subjoined by the surrounding warmness of the percussive tones that emerge during the second half of the song. The vocals at the song's very end put the final touch on this gloomy introduction before they give way to the second song. These desperate, piercing screams, enwrapped in the majority of the guitar riffs, shed every nuance of fear or emptiness that this album evokes. 'Les Forges' closing section is but another unexpected burst, imposing and dark but beautiful as it is followed by yet another acoustic part. It seems as if 'L'Aube' is caved into this song for a short while, as the acoustic guitars, the violins and the band's black metal nature coalesce into one. A nature that is always present but so orderly combined with the folk, traditional elements that add much to the very passionate, characteristic and pessimistic side of GRIS' music.
The fluctuations as well as the rich musical timbre is another significant characteristic of À l'Âme Enflammée, l'Äme Constellée…, that balances between depression and joy, a fine antithesis that is also lyrically supplemented by the album's title. The murky and mysterious chords, accompanied by some tricky drum patterns and mournful bass lines, contain the echoing melodies that a lead guitar would create. On the other hand, quite a number of songs are just intros that blend into the what follows after ('L' Aube', 'Samsara', 'Sem'), though not filler in any case as they preserve the album's atmosphere. As we proceed even deeper, we come across some well-hidden dissonant melodies, lost into the continuous scratch of the riffs. Although quite monotonous at times, an instrumentation like this is deemed necessary for an album of such ambiance and marks every different riff to be even more conspicuous.
'Dil' is one of the most traditionary-influenced tunes of the album as it contains acoustic guitars and tribal-like percussions, along with the violin's ethereal presence for the most part of the song. and uninteresting, 'Moksha' is folkish as well, the electric guitar's abscence let's the violin, cello and the other (traditional) instruments shine in their vivid brightness, without losing their black metal bleakness. Intricate and sullen, the songs remain substantial despite their great length. Generally, the numerous chord transitions seem to be quite overplayed and apart from the aforementioned features, there are not any other surprises concerning the music but this is not the purpose of this album to begin with, as it should be listened as a whole, bringing the most gray (gris) of memories back to mind. A glance back, in retrospect or a timid expectation for something new.
À l'Âme Enflammée, l'Äme Constellée may be picturing the destination we secretely long for, an album soaked in a sombreness one should try to contemplate. It is beauty hidden in a painstaking, melancholic procedure. Let your soul burn with it.
-Lefteris Kefalas
VITALS:
Release:  9.7.2013
Label:  Sepulchral Productions
Avantgenre:  The Balance Between Joy And Despair
Duration:  83 Minutes
Origin:  Canada
Official site:  None
Review online since:  29.08.2013 / 16:07:38
TRACKLIST:
01 – L'Aube
02 – Les Forges
03 – Samsara
04 – Igneus
05 – Dil
06 – Moksha
07 – Seizième Prière
08 – Sem
09 – Une Épitaphe De Suie
10 – Nadir