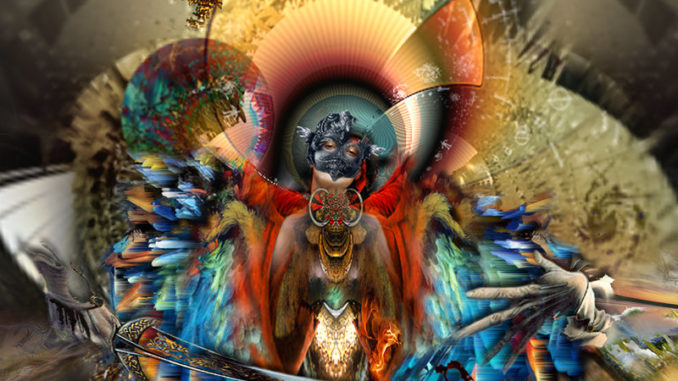 More than a year ago DOL AMMAD mastermind Thanasis Lightbridge proclaimed the coming of a new galaxy in the universe of electronic art metal. And now finally the long wait is over! The mysterious "Goddess" DOL THEETA strides down from the heavens in majestic beauty and spreads her bewitching, narcotic whispers.
Thanasis is a masterful composer who manages in perfection to combine the mightiness of metal with the crystalline soundscapes of electronic music. DOL AMMAD shows the bombastic, epic sides of this unique mixture, the extroverted and aloft spheres, the onwards riding spaceships and shining light-cities in the skies. DOL THEETA instead is the mysterious, phantasmagoric sister of Dol Ammad. It's a mesmerizing maelstrom that draws you down to the grounds, a smile full of riddles and questions. It's a door to meditative, intimate and peaceful dreams that can easily turn into unfathomable labyrinths.
The first thing you see when holding the MCD in your hands is the marvelous design. The releases of Thanasis always stand out with splendid surreal-futuristic artwork. And the digi-pack of "Goddess" even brings this one step further.
The first song "Goddess" opens with spherical dripping synthie-lines and sparkling arpeggios, the dreamlike, yearning, monalisaic angelvoice of Kortessa and the furious guitar solos of Dim (both also play in DOL AMMAD), all grounded by heavy drums and guitars. The vocal lines are extremely catchy and bewitching, at the same time strange and worldless. To even dive deeper into the atmosphere of this song the psychedelic video-clip of "Goddess" is included to the MCD.
The second song "Dream of Doors" is an electronic deconstruction of "Goddess", stripping it from any metal elements and making a great ambient song out of it.
Finally the futuristic marching epics "Deathstars" draws a stronger bridge to the bombastic worlds of Dol Ammad. Behind the catchiness of this song hides a great complexity. The arrangement is full of subtle details, concerning melodies as well as sounds. And this song has an incredibly liquid structure, where one part flows into the other so organically hardly heard anywhere else before. It's not just a song, it's a living being!
This masterpiece raises high expectations for the forthcoming first full-length album of DOL THEETA. Check
to listen to the whole, full, complete MCD without any limits! And make shure to support this great band and buy this CD! It's a masterpiece that will bewitch you for hours, days and years!
-Chrystof
VITALS:
Release:  2008, August
Label:  Electronic Art Metal Records
Avantgenre:  Electronic Art Metal
Duration:  17:17
Origin:  Greece
Official site:  http://www.thanasislightbridge.com
Review online since:  27.09.2008 / 23:32:31
TRACKLIST:
01. Goddess
02. Goddess (Dream Of Doors)
03. Deathstars
Goddess (Videoclip)