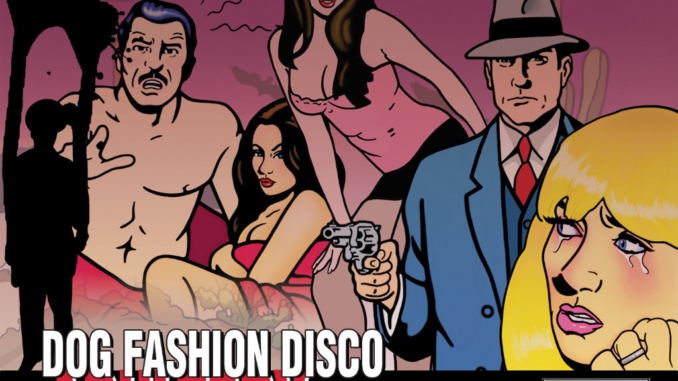 I remember I got this album shipped from the US a year ago and I acted like a child that gets his long-awaited Christmas present. I broke into a kind of euphoria and was shouting "Igeeeen!" ("Yeeess!" in Hungarian) to the every corner of my room. I waited around two weeks for my first jewel-cased avantgarde/experimental treasure. Anyway, I knew all the songs already in December when I discovered this band. I hit on "Download" and instantly got addicted. Since I don't buy music albums without listening to it before, I just did it later when I was sure about its value. Too bad that two weeks afterwards I found them broke up, disbanded after releasing previously 5 studio full-lengths.

With the CD a little piece of paper "teaser" came and said:

"Lock Quentin Tarantino, Charles Bukowski and Humphrey Bogart in a room with guitars and a few bottles of Absinthe and what you would find closely resembles the very record you are now holding…"

It made me smile indeed. I was thinking about what this albums intends to be with a kind of teaser like this. And I came to the conclusion that it will be aggressive, bloody and filled with sexuality. I was right – but just partly, it isn't just that.
When I wrapped it out, my eyes got stuck on the cover. The reason was its drawing, even comics-like quality with a text saying "What's the little sin under the covers?" At that time I didn't understand what it meant, but after having listened to the album I realized the thing. There was another one situated directly past the Parental Advisory warning: "In seductive color for mature audiences only". A reference to violent or pornographic films. And wait! All the band members' names are on the bottom of the front cover, each put after the other one, last names in capitals. Movieee! And yeah, don't forget that there are a bunch of typical noir characters on the front: a private detective, bitches, a member of the Mafia. The back of the cover shows a promo picture which I found very expressive with a kind of retro-feeling. On the other hand the booklet is not a "big thing" except for the comics' part in it illustrating a few songs, Desert Grave for instance. The CD itself is dressed into the plain silver-metal standard with flower motives.
Let's listen to it finally!
This very album contains thirteen songs and 13 can be seen as the famous superstitious thingy originating from the fairy tales – but who knows? Anyway. The album is a conceptual one which takes the listener on a journey through one man's self destruction.

The CD starts with a quiet piano solo and whispering speech asking "Who's that voice in your head?". I suppose all of you know what's up now. I will go on tracks from tracks – up to a point because the music builds up itself logically.
The bloody massacre in experimental hardcore robe starts off with the slogan of No Mercy! As Miss Rose Covington is burning alive while hanging on a cross where the power of Christ compels her we notice a breakdown in music and then a continuous fastening with electronics – this was the point I started to love this track. After the marching of unholy ghosts in morbid rhythm and chanting mantras of the dead under a bloody moon – comes the third song.
The third is Silent Film which eventually a video was shot for featuring half naked satanic women, ordained priests in the Church of Satan, whiskey and gambling. Watching the video and listening to the music a feeling of retro attacks you causing happy and nostalgic moments. However to analyze the music as well; The jazzy saxophone and puppet-show-like weird vocals only comes just now inviting you for a ride back to the eighties.

Apart from violence and retro there are various themes on this album. For instance; depression, insanity and suicide. Sweet Insanity guides you into the mind of a killer. In this song you will definitely notice the colorful voice of vocalist and guitarist Todd Smith who actually sings, not screams as he did before. He is a hell of a talented vocalist and composer – the mastermind of DFD indeed.

Chapter Five: Desert Grave. Haha, I got this instantly: the Tarantino-reference track with the smell of the dry desert and the hot shining of the sun. I even claim that Todd is imitating the voice of Michael Madsen who played the impressive role of Budd in the controversial film "Kill Bill". Trombones, banjo and a piece of country, yeeha!

In my vision Moonlight City Drive invites you for a killing journey into the neon-flash advertisements' world, Las Vegas. Feel the air hitting your face while sitting in a cabriolet Cadillac. The music evolves into a jazzier, and electronic type and Todd narrates, sings, screams and whispers as well.

Private Eye is the lounge-like Bogart adaptation, nothing to say about it. Those who know Bogart's character and personality will truly love this one along with the song's funny ending which makes me smile every time. In the followings we are voyeurs of depression and suicide attempts along with a roadside hitchhiker killing.
Important to point out that there are two completely different songs with dissonant violin melodies providing a sinister atmosphere which freaks out on the first listening. One of them; Dead Virgins Don't Sing features weird choirs, noisy electronics, dictator-like speech, and crowd chanting and shouting. One cannot find the lyrics in the booklet. However, it gives visions of the same identity of Jesus, Satan and a dictator. The album reaches its Avantgardist peak with this song and it's dark. Really dark.
To sum up Dog Fashion Disco's last and in my opinion best album, I have to say that this material is highly recommended for those who are beginners in Avantgarde music and/or like jazz and metal put together. It doesn't mean that it's not for advanced individuals but I think it's better to start with something which is not "that avantgarde" preventing from drowning in deep water.
Dog Fashion Disco died along with the December of 2006 leaving 6 great albums for us to enjoy and appreciate experimentalism.
~ For those who want to enjoy more of Todd I recommend his new band named Polkadot Cadaver which has similarities with DFD. ~
-revon
VITALS:
Release:  April of 2006
Label:  Rotten Records
Avantgenre:  Neo-Noir Experimental Retro Movie Metal
Duration:  50:28
Origin:  Baltimore, USA
Official site:  http://www.dogfashiondisco.com/
Review online since:  13.01.2008 / 12:20:59

TRACKLIST:
01 – The Uninvited Guest
02 – The Sacrifice Of Miss Rose Covington
03 – Silent Film
04 – Sweet Insanity
05 – Desert Grave
06 – Moonlight City Drive
07 – Private Eye
08 – The Darkest Days
09 – Dead Virgins Don't Sing
10 – The Hitchhiker
11 – 100 Suicides
12 – Adultery
13 – Mature Audiences Only