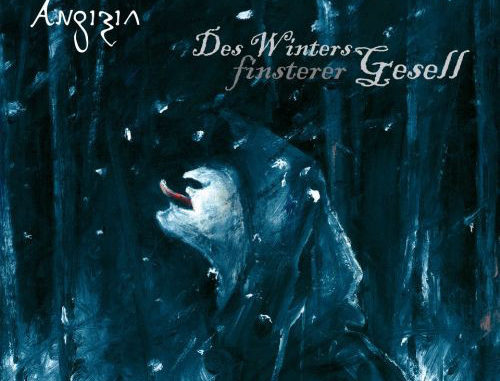 "Des Winters finsterer Gesell" tells the dark story of Der Finsterer Gesell, a bitter misanthrope who wanders from homestead to homestead in the Alps in the dead of winter, murdering their inhabitants. The music, often cold and threadbare, effectively places the listener in the snowed-in dark of the high mountains. Like "Kokon," much of the earlier extravagance has been stripped away to reveal a bleaker, more desperate atmosphere. But, in keeping with those earlier albums, it still manages to be punchy and festive at times. It is also unusually metallic, with simple pummeling riffs and fast beats—the song "Zügellos," one of the best on the album, even flirts with a slight groove metal sound.
Most of the playful woodwind instruments are gone, and the music alternates between fast songs that ride on simple and direct metal riffs and cascading piano lines, and hauntingly melancholic passages played on string instruments, including achingly sad viola melodies and moody pizzicato rhythms. Being an Angizia album, there are playful moments that present looser and jazzier bass playing, waltzy dance rhythms, alpine folk music and festive accordion. The musicianship is, as always, first class, even if some of the distorted metal/rock guitar plays it more on the safe and generic side–I'd like to see more experimentation on that end of their sound.
The music is never excessively heavy or overpowering, but it tends to favor a direct hit to more roundabout Devil Dollish playfulness. Veterans Michael Haas, Jochen Stock and Irene Denner provide their voices to the story's main characters and the supernatural narrator—there are several inspired duets and solo parts that convey the sad isolation of the setting as well as the darkly humorous nature of the story, which is about a lonely soul raining on the parade—-in a very nasty way—-of happy villagers. It may be a bleak concept, but it's always tempered with absurdist humor, playing like a nineteenth century "Fargo."
"Des Winters finsterer Gesell" is a bit of a departure from the sometimes excessive theatricality of previous albums. It plays down the overt strangeness in favor of classy, relatively straightforward and melodic songs with heavy emphasis on storytelling. It's a rewarding approach, one that grabs the listener with visceral immediacy and slowly envelops you in its pitch black winter tale. it serves as a great introduction to an experienced band that has clearly grown comfortable enough to ease up a bit and let the strong story concepts and melodies speak for themselves. Highly recommended.
-James Slone 
VITALS:
Release:  2013
Label:  Medium Theater
Avantgenre:  Macabre Outdoor Winter Festival Metal
Duration:  1:09
Origin:  Austria
Official site:  http://www.angizia.com/
Review online since:  18.06.2013 / 00:33:16
TRACKLIST:
01 – Das Gebet Des Waldes
02 – Im Dunklenn Jann
03 – Anatol
04 – Himmel Und Hölle
05 – Weh Und Wunde Mich Ergötzt
06 – Ein Kreuz Zur Lier
07 – Jief In Des Waldes Gründe
08 – Flügelspiel
09 – Ich Hab Den Mut Ich Hab Die Macht.
10 – Zügellos
11 – Grausamkeit Und Prunk
12 – Das Leere Grab
13 – Lagd
14 – Abschiedslied
15 – Die Letzte Lust