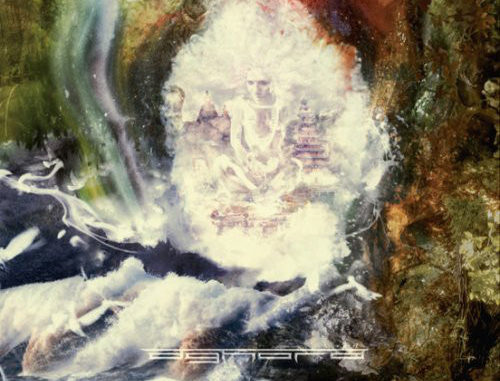 The first time that "Formless" collided with my ear drums I can't say I was impressed. As I listened the first time through the album I even reached the state of occasional disappointment and thought to myself: "There it is, the first negative review I'll have to write for avantgarde-metal.com." But by the time I listened to all the songs I began wondering: Did the band have a creative drain by replacing the rhythmic section? Did Santiago Dobles invest so much creativity in "Aghora" that he had no more to offer? How come that seven long years aren't enough to replenish your ressources? And how does that work with all the mind and body balancing activities he goes after with great dedication? Aren't those supposed to bring out more and more creativity? I concluded for myself that the answers lie in front of me and that I have to listen to this quite a few times before making my final personal judgement about it.
My perseverance was well rewarded! How the songs differ from the debut album can be best read in my interview with Santiago Dobles himself.
I was quite surprised to hear that the metal dose has been noticably raised on this one! Don't let the Intro make a fool of you. "Aghora" started with a crunchy riff while "Formless" initiates its listener to the beating that is to come by gentle psychedelic, indian tunes that will give you a truly wrong impression of the pace of the upcoming journey. It's not like the songs are now completely built around the concept of acoustic mass destruction but there is so much more of it now that I wondered where the calm interludes went to and when I will be allowed to breath. Well there are just better hidden and distributed in a manner that gives the song a stronger live edge.
I mainly liked "Aghora" fort the epic blasting like in "Satya". Now I got a whole lot more of it, but at first it sounded simpler to my ears which has unsettled me a bit. That impression was quickly dissipated by the time I lent the harmonies more attention and enjoyed the fact that the vocals were given more room to expand and carry the song in a more angelic manner.
All in all I advise anyone who doesn't enjoy this album by its first listening to spend some time on it. Otherwise you are on your way to prive yourself of a truly enjoyable and fascinating album. Let's hope that it won't take another seven years for the band in order to assemble the next, hopefully just as great, album.
-David

VITALS:
Release:  2006
Label:  Dobles Music
Avantgenre:  Buddha Progressive
Duration:  01:10:43
Origin:  USA
Official site:  http://www.aghora.org/
Review online since:  02.12.2007 / 11:34:11

TRACKLIST:
01. Lotus
02. Atmas Heave
03. Moksha
04. Open Close The Book
05. Garuda
06. Dual Alchemy
07. Dime
08. 1316
09. Fade
10. Skinned
11. Mahayana
12. Formless
13. Purification