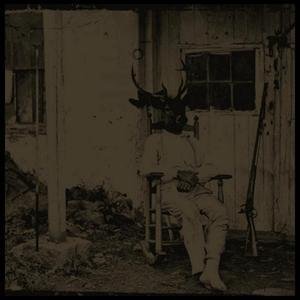 This is the fourth release, and second EP of this enigmatic Italian four-piece. Hooves… presents in concordance with it's simple and esthetically pleasing layout two tracks of calm and fluent music that you easily could describe as "post-(black) metal", whatever that means to you. The first track elaborates from electronic ambiance not far from mid-period ULVER, growing with elongated post-metal surges (again that ubiquitous and abstruse post-prefix) into blacker whorls of buzzing fury. Pretty and jarring at the same time. The second track is an instrumental piece, made up of two main sections interwoven by experimental electronic sounds – one brings to mind the soft free forms of MAUDLIN OF THE WELL, replete with cello and all, the other closer to the acoustic sections of ULVER's "Perdition City". Vocally, VOWELS range from theatrical whispers to the kind of declamatory bleating chants that only Garm could pull off in the late 90's (bringing down the release as a whole, I'm afraid).
The triple reference to ULVER isn't by chance or poor reviewing skills – with a name that obviously is lifted from the "Quick Fix of Melancholy" song/Christian Bök poem, it's unavoidable to mention the Norwegian wolves. And their impression on VOWELS is quite audible, even though the latter does not appropriate the genre form(s) of the former. VOWELS do not show the most daunting and irreverent signs of progression and invention on this EP, but a will and intelligent energy to craft something unstandardized with a set of quite interesting influences. Not there quite yet, though. "Hooves, Leaves & The Death" still leaves a sort of semi-professional, half-baked aftertaste – without comparing to their earlier releases (which I haven't heard), they need to grow a few sizes to fit into their ambitions.
By the way: I'm glad to hear a home-made 2011 release which isn't over-worked and edited into sterility in a pirated Cubase for the sake of appearing professional – girls & boys, keep up the defiance towards the ProTools paradigm, don't sound like you're a tight band until you really are!
aVoid
VITALS:
Release:  2011
Label: Self-released
Avantgenre: Ambient Post-black Metal
Duration:  20:09
Origin:  Italy
Official site: http://www.vowels.it/
Review online since:  16.11.2011 / 23:14:45

TRACKLIST:
1. Wolves Eating The Sun
2. Not Unlike A Falling Leaf