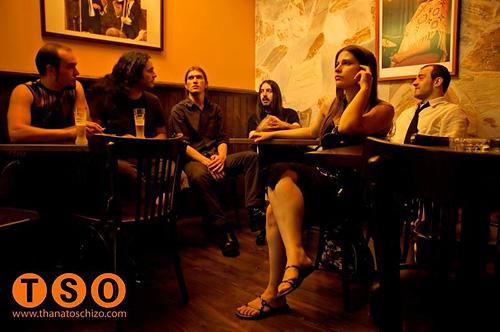 This band is constantly amazing. Each release is a masterpiece in its own right, and Zoom Code is no exception. Once again the band has evolved, and updated (streamlined?) the sound of the Turbulence record.
The opener "Thick 'n' Blurry" confirms that this is indeed ThanatoSchizo Mach 2.0. The groovy death metal, psychedelic rock and gothic influences have been made one, birthing a powerful, original sound. Vocalist Patricia sounds confident and at ease, riding the wild grooves like a queen. Eduardo is using his clean voice (ala Beyond Dawn) much more and though the death growls are more strategically placed, they sound like pure evil. The composition style of the band remains unique as ever.
The second song "L." continues the strength of composition, with an exotic groove, and a violin break that will make jaws drop. The way they incorporate so may elements , yet making them a part of their own signature sound is remarkable. The next song "Hereafter Path" has an aptly dervish-y rhythm and the now expected exotic melodicism.
The production brings out the band's amazing musicianship and the record's dramatic ambience to the fullest. There is distinct preference for non-typical melodies and scales (I could say eastern european or middle eastern but I could be wrong). Whatever the influence, it adds to the aura of the record.
"Pleasure Pursuit" is twisting hurricane of a song, with possibly the single catchiest 'chorus' (or vocal motif, as you please) the band has penned to date. That along with "Pale Blue Perishes" could easily hook even more mainstream metal listeners. Infact, many tracks here employ similar hooks, without sacrificing an iota of the artistic integrity which made Thanatoschizo so endearing in the first place. Another surprise is the wordless jazz-rock piece that acts as an outro, "Awareness".
All the tracks are strong in their own right, and make for an enjoyable invigorating listening experience, where pressing play after the album ends seems natural. If anyone misses the exotic sound of bands like In The Woods and wants an updated version of the same , this is the one to get. Its definitely on my year end list. 'Gypsy Metal' anyone ?
– Suleiman
VITALS:
Release:  2008
Label:  My Kingdom Music
Avantgenre:  Avantgarde Gothic Metal
Duration:  48:33
Origin:  Portugal
Official site:  http://www.thanatoschizo.com/
Review online since:  07.05.2008 / 07:40:08
TRACKLIST:
1. Thick 'n' Blurry
2. L.
3. Hereafter Path
4. (Un)bearable Certainty
5. Pleasure Pursuit
6. The Shift
7. Last Of The Few
8. Pale Blue Perishes
9. Pervasive Healing
10. Nothing As It Seems
11. Awareness