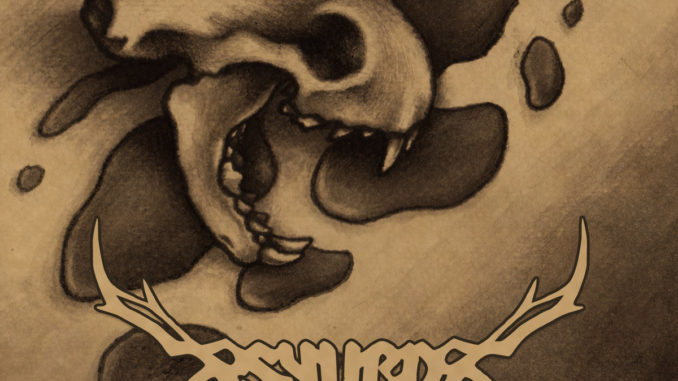 From the angle of a middle-aged wanderer through the Nordic netherworlds of dreamy-doomy music, there can be no doubt that SYVEN hails from the Finnish hinterland: the music on this truly outstanding debut album sometimes sounds like a distant echo of Decoryah's legendary "Wisdom Floats" longplayer and in fact it fascinates with similar qualities.
First of all this is music unbound from stylistic borders and floating from deeper wells than the common "dark" sounds. It's a fantastic combination of instruments and voices which weave wyrd webs of dreamy – SYVEN say: shamanic – atmospheres, with acoustic and electric (!) kanteles, tribal percussions, and vocals that seem to me like the gloomy counterparts of what once was called "heavenly voices" (back then mostly female and bright, so you might imagine at what I try to hint…).
Second this music obviously aims at accompanying you into a more tranquil, yet focused state of mind and has meditative quality. Tolonen's way of playing the kanteles has something slightly magical about it – if you want so and are open for that kind of magic anyway. There might be enough metal heads that will easily fall to sleep with SYVEN because of pure boredom, but for those who appreciate dark bombastic & semi-acoustic arrangements, "Aikaintaite" might offer an enriching journey to other spheres beyond daily routines and banal drama.
Third this approach is naïve in a way that it simply repels any superficial attack in the name of complexity and chaos. While listening the five songs, it becomes apparent that they work perfectly well in their solid and simple forms, just as they are. "Aikaintaite" convinces as a piece of music which sounds like it was meant to be. No superficial gestures, no extraordinary changes of tempo or mood, no sensational climax, no superstardom, no… just music which speaks for itself. Maybe not the best choice for starting your next party, but a brilliant choice to calm down and to let the mind travel.
-Thor Joakimsson
VITALS: 
Release:  Fall 2011
Label:  Vendlus Records
Avantgenre:  Shamanistic Inspired Transcending Doom
Duration:  60 Min +
Origin:  Finland
Official site:  http://syven.atolonen.cjb.net/
Review online since:  02.02.2012 / 21:12:43
TRACKLIST:
01 – Syvyys
02 – Jäljet
03 – Ne Jotka Selviävät Talvestamme
04 – Jäänkätkemä
05 – Tuulenvire