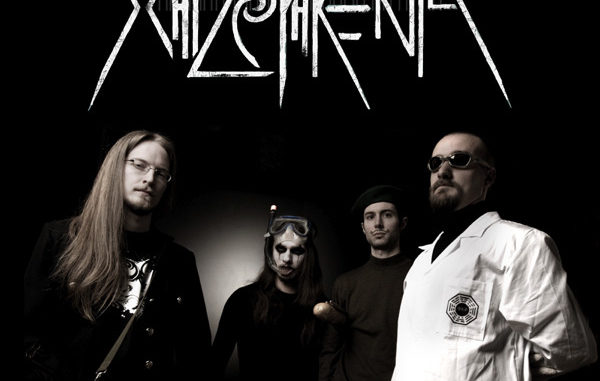 The electro bass bubbles, followed by a steady 909 sounding kick. This is augmented by fuzzy synths and semi-distorted vocals (somewhere between darkwave and tough guy metal vocally). There is slight teutonic feel in this section, but suddenly the song breaks into a vintage digital hardcore (with guitars and frentic rhtyms).
The second track better represents what the band is about, starting out with a NIN sounding intro, again taken elsewhere by the vocals and especially the Killing Joke-ish chords and riffing. There is emotion on display here, without belittling the underlying anger and disillusionment of the music. The melodic chorus is quite catchy, with simple chords used to great effect. The third track continues to explore the mid-paced sound, bringing some indie and stoner riffing to the mix, while the synthetic distorted beats and synths are ever present, sometimes allowed to stand out alone.
By the fourth track ("Milkshake"), I am whole heartedly convinced of the band's greatness. While you can hear at least four genres being amalgamated, you would be hard pressed to identify which band this sounds like. The band has that elusive and unique feature : identity. The hear-wrenching riffing and feel of the chorus make this one of my personal favorites on the album (try getting that melody out of your head).
"End:" has a mostly pure electro-instrumental with a tastefully restrained use of samples to great effect. It moves forward with a subtle but logical progression.
"Dry Water" is again an immensely catchy track with all of the now-recognizable ingredients (e-bass, synths, distorted drums, simple semi-melodic riffing and guy straddling the fine line between singing and shouting). The hooks are big enough to reel in waves.
Some things need to be clarified here. Firstly, when I say melodic in this review, I mean Prong and Killing Joke (the sparse use of simple haunting chord progressions) and most definitely not Sweden or Iron Maiden. Secondly, while the 'singer' seems one dimensional in the beginning, upon repeated listens he appears to fit like a glove (and his avoidance of clean vocals saves this from becoming syrupy schlock). Thirdly, the emotional spectrum on display here ranges from anger to frustration to disenchantment but never goes overboard with the dramatics or faux posing (the bane of modern metal). This also avoids the mechanical texture of most electro-metal, instead interjecting warmth and passion into their sound. It is definitely more of a cyborg metal entity, rather than a purely android one.
Most of the songs continue in the vein described above, with "Vuoto IN" being a strategically placed short (and calm) instrumental that shows how well the dark wave synths can combine with indie guitars of longing. The closing track is also a longer instrumental but of a more grooving nature. The album is wisely not very long in length, ending its eleven tracks in just under 40 minutes and demanding a second play.
With bands this good representing Industrial / Electronic Metal, the genre seems in no danger of losing steam. I am hoping for big things from this trio in the future.
Note : Surprise ! The whole thing is available from the band's official website for free download as high quality mp3. What are you waiting for ?
-Suleiman
VITALS: 
Release:  2008
Label:  Http://www.schizophrenia.it/
Avantgenre:  Cyborg Hard Rock
Duration:  38:14
Origin:  Italy
Official site:  http://www.schizophrenia.it/
Review online since:  14.05.2009 / 06:48:26
TRACKLIST:
1. It's
2. Priceless
3. Checkmate
4. Milkshake
5. End:
6. Dry Water
7. N / 0
8. Democracy Sucks
9. Vuoto IN
10. Mother Screen Teach Me Love
11. End.