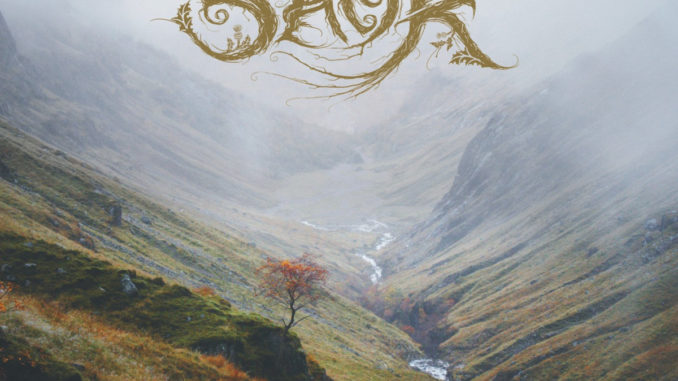 Rarely do the auricular offerings of folk metal bands invocate a quiet corner of nature for purposeful meditation. More often they are filled with the echoes of clashing iron weapons and wooden shields and mead-filled horns.
Scotland's SAOR draws on the enlivening beauty and mystical power of the Celtic heartland, which stretches from Scotland, down the west coast of the British Isles, over to Ireland and all the way down to the northwest stretch of France known as Brittany. Anyone who has found themselves strolling along the majestic coastline of these lands, heard the thunderous sound of the waves detonating against the cliffs, felt the wind blow from the sea onto their face, or inhaled the moist air inside its enchanted forests and on the tops of its misty mountains, can attest to this spiritually and physically invigorating energy.
Metal music that resonates with the more nature and spirit-oriented vibes of the Celtic world has either escaped my attention or simply didn't exist until SAOR satisfied a longing in me, one I didn't even know I had until I listened to the absolutely brilliant Aura.
I like that their music leaves little room for interpretation. I immediately feel catapulted into the Celtic lands. Flutes and acoustic guitars may be obvious choices for setting the tone (Children of the Mist), but the drive and energy that the opening song closes with leaves me with little doubt that this album plans to take me, the listener, on a grand journey. Covering five chapters of epic proportions (most songs don't end before the 12-minute mark), the songs are nothing short of awesome–within the compositions, you will discover layer upon layer of melody springing from the rich imagination of Mr. Marshall in the form of string arrangements and traditional Celtic instruments deeply woven into the thick, ripping and majestic guitar sound! The title track epitomizes this the most.
All these different components really flourish thanks to the dynamic structure of the songs. Speed and drive, hardcore-inspired vocals and clean choruses alternate with quieter moments and parts that remind me a little of Alcest, and each part really enhances the other, complementing their respective atmospheres. The flow is seamless and natural, and is in perfect tune with the diverse display of natural phenomena of the region to which this album builds a marvelous monument.
Aura is magnificent, deep, well rounded, and a veritable gift to anyone who has been craving more emotional depth in their folk metal. The scope is colossal and yet full of heartfelt, personal sentiment. Let it take you by the hand and send you you on a soaring journey!
(Editor's Note: for something a little softer with a similar vibe, check out Scotland's Falloch)
-David
VITALS:
Release:  06.06.2014
Label:  Northern Silence Productions
Avantgenre:  Symphonic Post Folk Metal
Duration:  56:37
Origin:  Glasgow, Scotland
Official site:  http://www.saormusic.com/
Review online since:  23.08.2014 / 16:52:53
TRACKLIST:
01 – Children Of The Mist
02 – Aura
03 – The Awakening
04 – Farewell
05 – Pillars Of The Earth