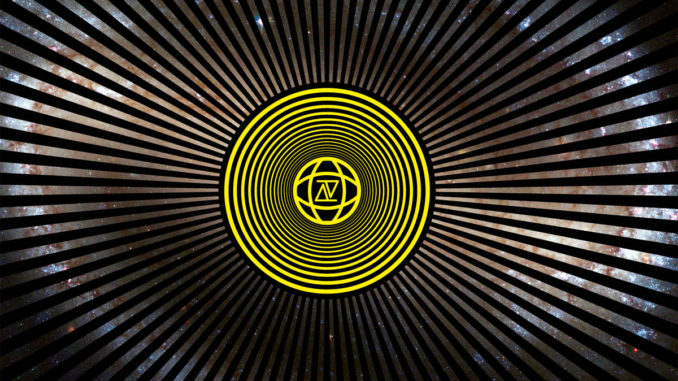 In yet another headstrong attempt to shatter the "In space no one can hear you _______" barrier, one-man Grindcore band PSUDOKU has released Space Grind – a 28-minute wave-spectrum histogram of interstellar data recorded in 2011. The transmissions originate from a newly-discovered and fertile nebula – one possessing a gaseous cloud emitting short bursts of PURE KINETIC SOUND INFORMATION. These bursts are so bizarre and catchy that perplexed scientists have admitted that they seem to be not be aural remnants from the distant past, but rather perplexing, ebullient messages from a STRANGE and TERRIFYING FUTURE.
Space Grind is a calculated and goofy madness. The songs are short and gleefully manic. Riffs bounce cartoonishly around in herky-jerky rhythms that are difficult to follow, and even more difficult not to feel. PSUDOKU's guitar is twangy and loose – engineered carefully by reverse-prescient future beings to preserve the listener's delicate 21st century ears. The drumming has blasts in droves, but possesses a winsome Jazz levity and nuance, with wonderfully detailed snarework, melody-tracing ride bell and tom accents a-plenty. This ain't your traditional earthbound cymbals and distorted guitar Grind-fest – PSUDOKU's sound has more in common with Lightning Bolt or Hella than Assück or Pig Destroyer.
And the vocals, oh my God the vocals! There nearly aren't any! PSUDOKU uses his belligerent growls and wordless shrieks as punctuation, toasting his own fantastic melee in an emotional shorthand. This approach works quite well, allowing the spastic dance of the wild & crazy riffs and insane drumming to occupy center stage.
But Space Grind is not all guitar fireworks, possessed drumming and the occasional grunt or scream. There are science-fiction synthesizers sprinkled throughout the album. Once in a while PSUDOKU slows down for moments of Jazz-inflected quietude, as during "VoyaGER1+2CONtribution" and at the beginning and end of "DIMensionaL Warp". There are also two keyboard pieces – "prökPSYch" and "MuLTisPATIAL" – that are delivered in the same fast and furious spirit as the other songs, light-speed drumming and all. The result is a first-of-its-kind sound that only an evil genius could craft.
So what is Space Grind? Why it's a rollicking, exuberant barrage of riffs and rhythms that bombards the listener with megawatts of cosmic energy. It is a lovingly crafted debut SUPERNOVA of deep space groovelengths from the howling interstellar dynamo known only as PSUDOKU. We can only hope that the celestial wellspring that produced these wonderful wavelengths is not exhausted, and that Grind astronomers will have their instruments ready when the next transmission comes screaming in from future quadrants unknown.
-David Sano
VITALS:
Release:  02.28.2011
Label:  Revulsion Records
Avantgenre:  Hyperactive Interstellar Grindcore Madness
Duration:  28 Minutes
Origin:  Norway
Official site:  http://zkam.org/psudoku/
Review online since:  24.03.2014 / 19:17:54
TRACKLIST:
01 – BOOOooom
02 – DISastro-3000
03 – PossiBLeUniveRSZ
04 – VoyaGER1+2CONtribution
05 – WorMHOLz
06 – KatAKosmiK
07 – DIMensionALWarp
08 – QUantilibriUM
09 – PrökPSYch
10 – BAaang
11 – HYPERsphere
12 – ZOne-1
13 – GALaXYofblobs
14 – BlaCKHOLe3
15 – WaVE21
16 – SUBSpace-1
17 – BiGCruNCH
18 – MuLTisPATIAL