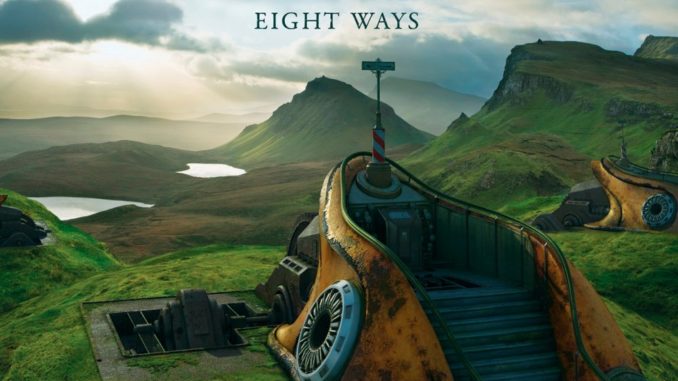 I would never have thought that, of all things, such an incredible album like MADDER MORTEM's latest work "Eight Ways" would cause such problems when writing a review! For instance there is a certain fear creeping in my head, ever since I started thinking about how to put my impressions into words – the fear of losing the magic of this album. On one hand this surely has to be expected for music of this gauge (in other words: I should have known before), on the other hand this probably is the "curse" of being a writer for a magazine (in other words: I should have known before)…
The second problem is: Where do I start to describe the fifth album of these five Norsemen round the siblings Agnete and BP M. Kirkevaag? I already mentioned that "Eight Ways" has become an outstanding album – but where exactly do I dive deeper into MADDER MORTEM's world? I believe that some focused glimpse on certain details couldn't do the album any justice; hence it is very hard for me to swoop down on particular instruments or songs.
For all those who are familiar with the last releases of MADDER MORTEM, it should be pointed out that the course they adopted with "Desiderata" has been pursued and intensified, "Eight Ways" sounds in every way deeper, more mature and more touching than its predecessor. All other readers should continue now, in order to get an impression of the offered music without knowing the back catalogue.
So let me start with the impression as a whole, before I try to enlighten particular aspects of "Eight Ways": MADDER MORTEM know exactly what they do. Every riff, every break, every single tune is exactly in the right place, it is unbelievable. What does "right" mean here? – "Eight Ways" carries me off emotionally to such an extent music hasn't been able to for a rather long time (I would even dare speak of years), THAT means "right"! The songs are traversed by melancholy, sadness, anger, despair and many blends, so massively and authentically that listening to the album continually gives me the creeps or brings tears to my eyes. I am dead serious about that.
A huge share in that – and by this we are at the start of a more detailed description – has singer Agnete whose voice is absolutely unique. Whoever thinks of Tarja Turunen or Liv Kristine when hearing the term "Gothic Metal" and expects something similar from MADDER MORTEM, has already lost the game. This is about emotions and not about trivial trilling as contrast to a Metal background. It's about emotions Agnete transports in an impressive way – I don't know anyone who is able to sound such desperate, to put so much anger into her voice and, in addition, is able to mix up several emotions seam- and apparently effortlessly. From a technical point of view she's on a high level as well; not only the vocal lines deserve the attribute "unusual", her range, both with head and chest voice, is sheer madness.
Agnete's voice is surely anything but contrast, it perfectly blends into the instrumental context, just as if it was an additional instrument which completes the picture. And, just as in paintings every color is important for the whole picture, the guitars, the bass and the drums are in no way some kind of backing. The guitars, audibly seven-string guitars, move in a huge scope – fat, thrashy riffs appear as well as bluesy insertions, acoustic passages meet almost Black Metal-like leads, here and there some kind of tango ("Get That Monster Out Of Here") or a Metal soundtrack to a Tim Burton-movie ("The Flesh The Blood The Man"). The golden thread is always visible though. Same goes for the very well audible bass and the impulsive drums. It is noticeable that MADDER MORTEM work as a band, that every member follows the same vision on "Eight Ways". This vision is also conveyed by the transparent, yet very fat production which illuminates every detail and thus provides every song with the perfect sound.
And here comes the third problem which I stumbled upon while writing this review: How can I describe "Eight Ways" to my readers in a suitable way, how can I make my favorite for the "album of the year"-award palatable to him or her? If you, dear reader, have sat through until here and got a rough imagination of what "Eight Ways" caused in me, I already have solved this problem.
-Falk
VITALS: 
Release:  2009
Label:  Peaceville Records
Avantgenre:  Emotional Rollercoaster-ish Avantgothic Metal
Duration:  64:17
Origin:  Norway
Official site:  http://www.maddermortem.com
Review online since:  17.11.2009 / 20:06:43
TRACKLIST:
1. Formaldehyde
2. The Little Things
3. Armour
4. Resolution
5. A Different Kind Of Hell
6. Riddle Wants To Be
7. Where Dream And Day Collide
8. The Flesh, The Blood And The Man
9. Get That Monster Out Of Here
10. Life, Lust & Liberty
11. All I Know
12. The Eighth Wave