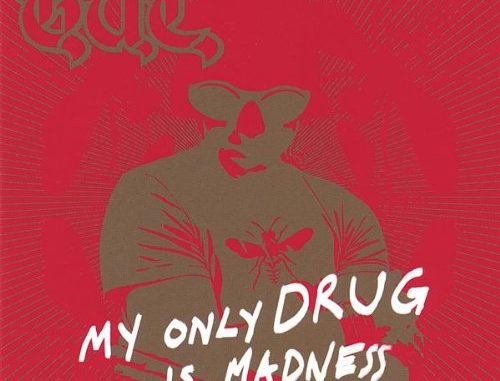 Lately, I've been known to look into the marriage of chemical drugs with musical avant-gardism. Although I will not paint myself in that corner for too long, I can only be interested by an artist whose only drug, at least according to his own words, is madness. This seems to be the strange case of Cornelius Von Jackhelln from Solefald and Sturmgeist fame, whenever he is turning upside down metal's basic rules in G.U.T., his less known solo project. On his first full-length record, the results are admittedly easy-going and far out, sensitive and barbaric, humoristic and dead serious, as the man fuses electronica beat, hip hop attitude, a strings quartet, hardcore catchiness and weird pop melodies with some unusual metal references, sometimes in the vocals, sometimes in the riffing itself, sometimes in the songs' "bite" and "kick", sometimes in a cover of Darkthrone. This is helped by a bombastic production, the quality of the sound making it easier to get into the songs' elements. So what we have here, in a way, is a non-metal album which is nonetheless resolutely metal. Sounds familiar enough? I don't think so. To my knowledge, no one does it exactly the way G.U.T. somehow managed to make this musical mess pleasing for the third ear. Too pop for the diehard weirdos, too edgy for the pop community – what in the hell is this?
As to proceed, let me start by noting that the album is as old as two years old and so varied that I will retrospectively go for a song-by-song crime investigation. A sort of "behind the scenes" inquiry. Grace under torture. File examined. Anomalies have been detected.
Balkanized in Belgrade – Electro hardcore anthem spitting at the face of imperialistic war through the anger of innocent people asking the "why did you bomb us" question to those who did it. The screaming vocals are flesh-ripping, the sounds bubbling and beaming, the guitars blazing with fury, this fucking kicks ass. A social catharsis to play loud.
Home of the Hardcore – Did you ever wonder if your living town either is no place for a party or the home of the hardcore? Come find out with this hilarious retro techno baby ballad classic. Yeah it smells alcohol abuse, has arty rock going on, as well as being an invitation to "bring the party to the people". Obviously, Cornelius has a good sense of humour and the talent to pull it through.
Transylvanian Hunger – G.U.T. reinvents and revalorizes an old Darkthrone top 5 hit from the good ol' nights of 1993, making it suitable for 2009's underground dancing clubs and other soirées costumées d'opera alike. Symphonic, elegant, orchestral, hips-waving electro pop with spicy hints of black metal spirits and multi toms rhythms. Had Fenriz, Nocturno Culto and Zephyrous gone Norwegian discotheques' icons, this would have been one of their earliest floor-ripper.
Représailles à Versailles – Solefaldesque neonism of hip hop with much vocal experi-"mentation" from Cornelius, upon hearing whom I often found myself laughing out loud and feeling playful. Located in a backstreet area, phat bass and oozing dirty grooves meet with orchestral choruses and broken rapping. Simple and well-crafted. Why is there a reference to Versailles? I have no idea.
First Song Last Chance – Electro interlude, chanting females in awe, emphasis on light, beautiful, uplifting. A bit cheesy, not my favourite to be honest.
Mastur Bator – A mystical and satirical ode to the God of love, the great commander Mastur Bator. It is difficult to explain why but this song feels very realistic when you follow the lyrics. I think it is a very representative picture of the younger generations we are and will see coming more and more often. As Cornelius writes it in the lyrics, "look at the sea, at those waves of red heat; one million hearts pounding lust at every beat; we like it wicked, making love beyond measure; excess in every way, overdose on naughty pleasure". Obviously in good spirits and love worshipping, von Jackhelln once again surprises the listener with his sharp sense of humour and observation.
The Beauty & the Bitch – Every next door's guy who's had a few serious relationships with women will find in this song something from their past or present experience. Cornelius is a writer and even from the most personal point of views – in this case, a guy helplessly rambling over women – he makes it a universal theme using catchy pop as a springboard to enhance his ideas so to speak. The most accomplished pop song I've heard from G.U.T., and a very effective one at that. The sudden guitars at two minutes into the song are priceless. Come on, sing with me, "I've loved and been loved by the beauty and the bitch; I could never tell the woman from the witch".
Unconquered Sun – A more cinematic approach to music, this song is epic and contemplative right from the start. The drum programming is as usual basic though just enough alive to drive the song's dynamics into some interesting galloping. Think brooding, melancholic, sleazy, lurking electro rock accompanied by an Italian operatic drama edge and not devoid of something oddly "out there". Solefald fans should enjoy this one, or is it just me? Classic Cornelius vocals. Hardcore opera pop.
My Only Drug is Madness – Much darker and meaner, let me quote parts of this tam tam electro orchestra's lyrics to bring you into the mood:
"Music is the way I share what I have seen
My only drug is madness, my bloodstream is clean
Why do you need powder to behave like a star?
I say like Kurt Cobain, come as you are
We want to be loved, to be worshipped as gods
We sell our asses to be ridiculed as sods
An artist should live forgotten abroad
Away from TV and the celebrity fraud"
Nein Nein Zeppelin – Ending the album with industrial beats à la Future Sound of London, dry and aggressive guitar tones, German lyrics and truckloads of buzzing electronics is a cool and perfect way to say goodbye to such a circus-like record. An album for the freaks, an album for the blinds, an album for the wise. Old-school as much as it is new-school. One would assume that from his experience with this album, Cornelius will have new and perhaps weirder impulses for the upcoming Solefald.
* * *
-Oliver Side
VITALS:
Release:  2007
Label:  Von Jackhelln Inhuman
Avantgenre:  Avant E-Hardcore Party
Duration:  35:42
Origin:  Cosmopolite
Official site:  http://www.myspace.com/gutmusic
Review online since:  26.10.2009 / 20:29:14
TRACKLIST:
01 – Balkanized In Belgrade
02 – Home Of The Hardcore
03 – Transilvanian Hunger (Darkthrone Cover)
04 – Représailles à Versailles
05 – First Song Last Chance
06 – Mastur Bator
07 – The Beauty & The Bitch
08 – Unconquered Sun
09 – My Only Drug Is Madness
10 – Nein Nein Zeppelin