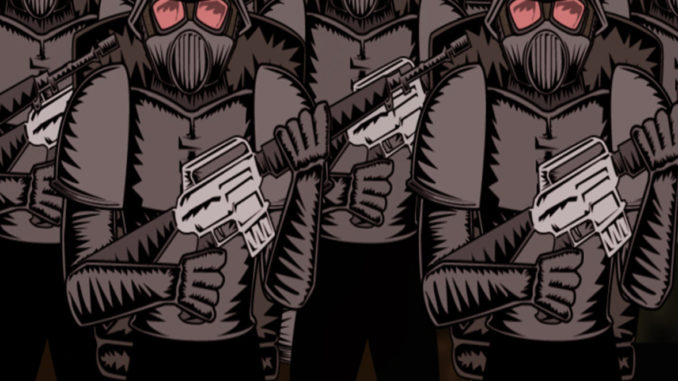 A breath of fresh air from UK. There haven't been many of these in my mailbox this year. This relatively new power trio is indeed the dog's bollocks. They are all over the musical map yet end with a distinctly original band identity in the 54 odd minutes of this debut (only an EP was released before this). Though the artwork, band photos and general outlook promised some wacky punk oriented metal, this turned out to be something quite else. First of all despite the marching war circus title track, the mood of most of the songs is decidedly dark even when the lyrics are firmly tongue in cheek. There is a crazy and versatile guitarist, a solid, proficient bassist and the punk rock version of Neil Peart on drums. There are heavy near thrash/death moments as well as swirly , hypnotic quality to some of the riffs, which is only further pushed into narcotic land by the harmonies. The best bit is the way band achieves quite / loud dynamics while keeping the atmosphere consistently dark. Honestly I was unable to throw out any sounds-like comparisons, and was handicapped as a reviewer. Despite the unclassifiable quality of this metal treat, it spins daily in my commute vehicle.
Since all three members share vocal duties, a lot of variety is on display here. There are classic death growls, screeches, screams and clean vocals (including female vocals from the guitarist ). The guitars are equally at home chugging, or thrashing as they are laying down doomy slabs of depression or playing some minimal carnivalesque / loungey motifs while drummer demonstrates again and again that less can be more if handled tastefully. Do not be misled by my referencing extreme metal , since this has a playful witty (and slightly surreal) undercurrent throughout The Baddies are Coming. This could be classified as prog-metal except that it has NOTHING in common with Dream Theatre, Opeth or Porcupine Tree. It has everything to do with grooving , rocking songs and a wacky (but disturbing) sense of humor.
Very very nice and has wide potential appeal due its non-allegiance to any particular scene. I have heard they are a riot live too. Here's to many more wonderful releases form this promising new act.
-Suleiman

VITALS:
Release:  2008
Label:  Self Released
Avantgenre:  Quirk Prog Metal
Duration:  54:44
Origin:  UK
Official site:  http://www.myspace.com/elschlong
Review online since:  25.12.2008 / 15:22:20

TRACKLIST:
1 The Baddies Are Coming
2 Bungface
3 The Room
4 Composting
5 The Cow Jumped Over The Moon
6 Swing Accident
7 Arthur R Nevilleson-Robertson-Brown
8 Harbour Cone