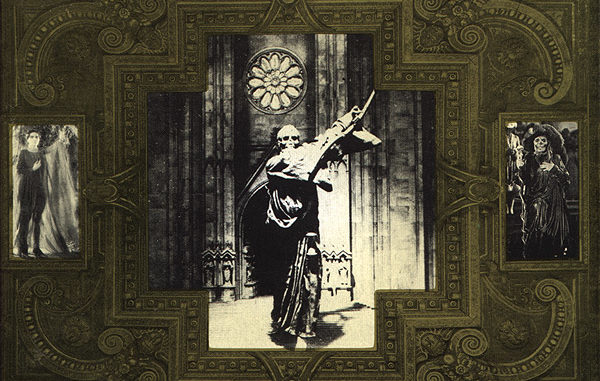 The legendary art rockers Devil Doll (not to be confused with the American rockabilly band of the same name) have influenced just about every weird, theatrical or gothic metal band in Europe, and yet they are still largely obscure. This is by design. The mysterious impresario behind their inventive sound and presentation, Mr. Doctor, has endeavored to build a wall between the band and their fans, avoiding interviews, tightly controlling the distribution of their albums through an exclusive fan club, and engendering an air of occult profundity through rare public missives. Of course, Devil Doll has always been an exotic enough bird to alienate mass audiences even without their idiosyncratic attitude towards public relations. While their sound is like a blueprint for virtually every metal band that has placed special emphasis on macabre gothic horror and theatricality, their overt eccentricity sets them very much apart from the pack of imitators and fellow travelers.
Devil Doll´s final album, Dies Irae makes a fine capstone to their career, and presents their sound at its most rich, opulent and well produced. It's also tremendously catchy for an epic composition drenched in the blood, sweat and sewers of Victorian horror, the grotesque and the awful. It´s a kind of musical penny dreadful, replete with feelings of paranoia, brutality and dread, albeit one with stupendously beautiful instrumentation, virtuoso vocals, and flights into the more literary corners of the nineteenth century (Oscar Wilde, et al). Being a Devil Doll album there are also plenty of samples from classic horror films, most memorably a lyrical snippet from the fantastic "The Night of the Hunter".
Like all Devil Doll albums, Dies Irae is essentially one long piece, helpfully subdivided here into dozens of short tracks. Some parts are dominated by propulsive drums and soaring guitars while others place more emphasis on plaintive piano and gorgeous violin solos. The emotional tone ranges from deeply sad, to aggressively dark, to otherworldly uplift, their sound encompassing the dead weight of the earth and the ghostly weightlessness of worlds beyond. What brings this confluence of sounds into harmony is Mr. Doctor´s incredible one-of-a-kind voice that, depending on the listener, will either sound like the most amazing thing ever or long twisted nails on chalkboard. One can acquire a taste for it though.
Working in European speak-singing traditions (e.g., sprechgesang) Mr. Doctor narrates the story, provides voices for characters, mutters darkly, and calls out with gusto like a master of ceremonies at a cabaret. His singing voice ranges from deep lows to high wails, sometimes zigzagging rapidly between extremes. Low growls effortlessly rise into the stratosphere with little warning, sounding almost inhuman. The rapid shifts in pitch and generally goblin-like affectations (the Doctor employs serious dramatic pauses, placing accents on the oddest vowels, stretching out syllables to ridiculous lengths for emphasis), give his voice a kind of mad muppet vibe, and there are times when he seems less like a rock vocalist and more like a Jim Henson-Frank Oz creation ready to drop in on the Labyrinth and devour the young Jennifer Connelly whole.
Dies Irae is not my favorite Devil Doll album. That honor goes to their incredibly ambitious, high-minded and occasionally overstuffed treatment on tyranny and war, Sacrilege of Fatal Arms. But it is the tightest, most succinct and accessible of their albums, emphasizing tight little numbers that stand alone without the context of the larger musical structure. Overall, the tracks all ebb and flow, building up to climactic waves before breaking into sadder, moodier, spookier lulls. A lot of it is quite grandiose even by the standards of the band, almost taking on a Sondheim-like air of stagey larger-than-life spectacle. Some misguided listeners have compared it to Meat Loaf´s sub-operatic stage shenanigans, but the comparison fails to account for the artful Central European melancholy that aches throughout Devil Doll´s music, a kind of resignation to shadows and decay, as well as the band´s heroic embrace of the completely weird and off-kilter. "I´ll Do Anything for Love" this is not.
While not the most ambitious Devil Doll album, Dies Irae is a great introduction to the strange kind of magic the band perfected over their short but dense career. For all its mustiness and murk, its haunting interludes and horror movie jump cuts, the album is beautifully inspired, with a strong sense of upward momentum kept in check by world-class songwriting, and a tremendous dedication to the perversely fantastical vision of Mr. Doctor. There are many imitators, but only one Devil Doll, and here they are in all their black light glory.
-James Slone
VITALS:
Release:  1996
Label:  Hurdy Gurdy Records
Avantgenre:  Sinister And Ethereal Gothic Art Rock
Duration:  48:35
Origin:  Slovenia and Italy
Official site:  None
Review online since:  03.11.2015 / 21:12:01

TRACKLIST:
01 – Dies Irae (divided Into 18 Tracks)