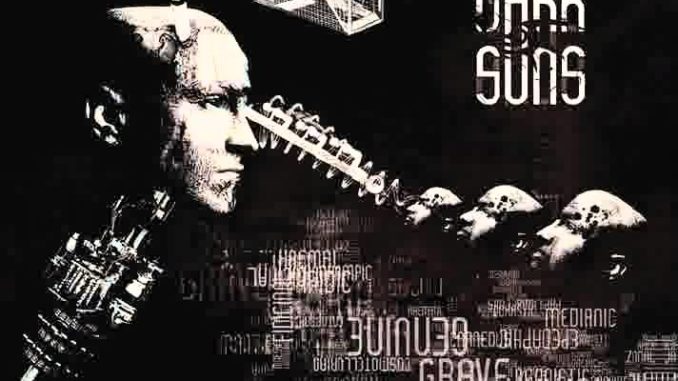 Usually I am not too excited about German metal bands, but sometimes this scene gives the world an original, outstanding act, not balancing in the border of a good taste. Let's name the sick and unclassifiable Bethlehem, the emotional stuff like Autumnblaze or Empyrium (RIP), respectively the epic conceptual post-modern metal made by Disillusion. And just the last named category and band is very close to our new and interesting "discover" from Germany – Dark Suns.
To help the listener with orientation, let's take the following frame: As for genre and sound, there is with no doubt some kind of neighbourhood with Swedish progressive masters Pain of Salvation, on the other hand we can trace also the Austrian ethereal Dead Soul Tribe. From the less or more distant fields are hailing for example Tool, Anathema, Opeth, Porcupine Tree and maybe a bit Ulver too. But, after all, Dark Suns sound mainly like… Dark Suns.
The first contact with this band can be a bit messy; you try to wade through it and to orient yourselves in the number of genres, elements, colours, layers and images painted by the music. But, since the beginning, you feel that it is not a purposeless maze – in the contrary, somewhere inside is a clear view and attitude, order and typical German precision and self-discipline (those qualities are to the benefit of the whole thing this time).
Dark Suns surely love the genres like doom, dark, progressive rock and metal, but also some heavier settings with roots in thrash, melodic death and black. They are able to mix it all (and more) into the impressive monolith where each of those genres (with their tempos, atmosphere, heaviness, majesty or fragility) ensures the demanded dynamics – a "breath". The sum of all those elements is in the same time leading to some kind of metal "über-genre". Of course, the band is open to accede to almost everything outside metal (electronics, jazzy touch) and handle it with its own approach. This is more like a spice, but even in the metal music and expression Dark Suns were able to explore some new trails and paths (respectively "streets") in which not too many bands walked before them. Innovation and unheard things are quite familiar for this band; the standard melodies and harmonies are not enough for them. In general – contrary to what is usually labelled as "progressive metal", Dark Suns are darker, more intense, more authentic… and somehow more progressive.
Similar to the allied Disillusion (who participated in the album – production and music wise I guess, maybe also in the role of tutors) also Dark Suns play the peculiar (post)modern "urban" metal (both bands come from one area – Leipzig). The hectic and contemporary pulse and breath of the nowadays urban man is projected into their artistic expression – his stories and feelings, the permeation of the inner and the outer… Beside the adequate musical and lyrical content the whole concept is crowned by a brilliant modern design.
From A to Z well-considered recording, no need to comment upon some errors, I did not find any. If I consider that Dark Suns have probably the main part of their noticeable artistic path and career ahead, we can expect more agreeable surprises from their side in the future. Yet with this album (that brings them in the sun of the world scene) they set up their "crossbar" quite high, with a necessary self-conscience, and they offered a delicate dessert (or better the "main dish", if we take the extent of the album) to all seekers of the original heavy music. This album is full of the creative freedom and ambitions, but in the same time they managed to full-fill those ambitions and give them a real content.
-Martin Cermak

VITALS:
Release:  01.02.2008
Label:  Prophecy Prod.
Avantgenre:  Progressive Dark Metal
Duration:  58:04
Origin:  Germany
Official site:  http://www.darksuns.de
Review online since:  25.05.2008 / 12:38:32

TRACKLIST:
01 – Stampede
02 – Flies In Amber
03 – Thornchild
04 – Rapid Eyes Moment
05 – Amphibian Halo
06 – The Chameleon Defect
07 – Free Of You
08 – Papillion
09 – 29