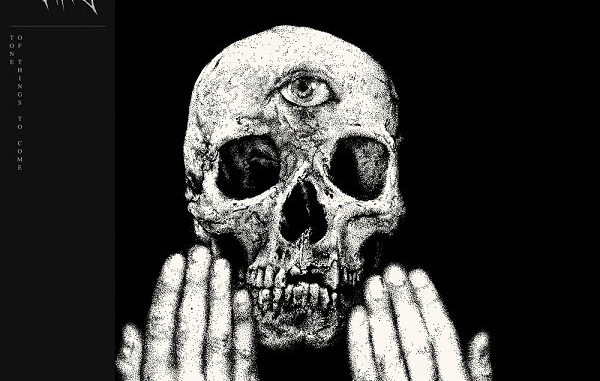 A rumbling expulsion of life's breath. Tumbling abysses. A spurt growing from the same deranged, tormented tree of pitch-black, ash-grey death metal that has seen the advancement of beings such as PORTAL and myriads of less distinguishable grave robbers and necrophiliacs, based in the common ancestor INCANTATION. But here, in this vortex, we're met with something quite different; the most outlandish figure in that family yet.
French debutantes CHAOS ECHOES, grown from the corpse of BLOODY SIGN, is more of an entity than a band. The musicians are four to the number, but may appear in several shifting forms – their first live performances, at the Kill-Town Death Fest, where improvisations from the Uibo brothers (guitars and percussion), guested by an external vocalist. An approach that opens for a wide range of formal experiments, under the unifying sign of CHAOS ECHOES. And that approach to exploration and experimentation – rather than exploitation – is heard clearly throughout "Tone of things to come". Several layers of pitch darkness are investigated, from droning doom to throbbing, amorphous death metal to unsettling sound experiments. Among the credited instruments we find crystal glass, cithara and marine trumpet, next to the common instruments. CHAOS ECHOES are set to plunge deep and wrest new forms for death metal from the primordial abysses, and it seems that they are on to something. More of a process than anything else.
"Tone of things to come" does in deed set the tone for some great things to come. Not all there yet, but I am intrigued as to what we will hear, see and sense from this ensemble, and this is by far one of the most impressive debut albums I've encountered this year.
-aVoid

VITALS:
Release:  September 18th 2012
Label:  Chaos Echoes Products
Avantgenre:  Amorphous Void Improvisation
Duration:  39 Minutes
Origin:  France
Official site:  http://chaosechoes.org/
Review online since:  08.12.2012 / 17:34:48

TRACKLIST:

1. R I S E
2. Interzone I
3. The Innermost Depths Of Knowledge
4. Interzone II
5. Black Mantra
6. Weather The Storm

CONTACT: