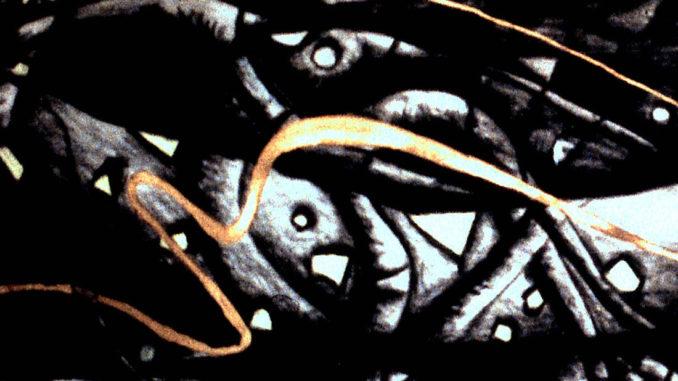 From Montreal – Canada – I recently discovered an artist whom I thought everyone interested in extreme/experimental and noise/ambient music should get acquainted with. Martin Dumais, aka AUN, before turning into the twisted sound wizard he has become, was also secretly active in Montreal's underground techno, tech house and downtempo scenes, for example with his band Les Jardiniers (The Gardeners). But back to our business, his last album Multigone has just been released by Crucial Blast, and it definitely has something strongly atmospheric going on, as Dumais is handling guitars, bass, violin and electronics altogether, to create a borderline ambient/metal majestuous piece of work. The first two tracks Multigone and Consumed by Flies are massive, heavy, drone-dirge, epic fire brails of alienated textures. Both songs might as well burn your brain and leaves you breathless and self-consumed. If you ask me, this doesn't only bears the mark of an extreme noise take on volcano drone metal, but it also, like on the magickal Steel Skull Plain, investigates through surrealistic and psychedelic dark industrial ambient figures. It's limitless music so to speak or as to breeze out unclear – whatever linguistics you prefer.
Surprisingly, next song Stables sounds like backward Stoner rock on ecstasy. Its very fluid like, and yet the badass rocking feeling is all over the place and growing more and more weirded out. And as the song is dissolving, Halfmoon Halfchoke takes the next lead and shines through its shimmering, blazing, fuzzy, slumbering, drony, hypnotizing, blissed-out, foggy and celestial ambient ascension. Palejoy then exposes a more beatlord side of AUN, and I must say I'm quite impressed: at some point, I was even thinking to myself that this was like some kind of Psyche Doomic Trip Hop or something. The guitars sound saturated, eerily industrial, reminding me of a rusty, bubbling, phosphorescent mire, while the deep bass line groove underneath is perfectly assembled in a way you can't resist to head nod along the strong atmosphere. Last song Kwelbo Krong goes back to more noise territory covering, which includes many other extraterrestrial influences. Add to that a very oppressive quality within the guitar noise riffing and it easily gets both overloaded and meditative at the same time. Contradictio? None at all. Extreme music the way AUN does it basically crosses, sometimes many, sometimes quite a few dense and highly compacted emotions against each other, to the point where it just feels naturally encompassing.
From zero to infinity, I might easily say that Multigone, as an album, conveys and maximizes the darker spirits of Extreme metal, while actually keeping up with psychedelism in sculpture and avant ambient/noise in texture and genre. With this album, Dumais really captured an organised, organic and otherworldly vision, only to let us experience its spectral liveliness. By the way, Multigone is limited to 300 copies so in case you would want to experience it at home, act fast! And for those who would enjoy discovering the specifically drone/ambient side-brother of AUN, way more minimal than what I described in this review, I suggest you click on the record's name, if you want to download the free four songs mp3-album FIELD, which was released by Clinical Archives in 2007. This hasn't made as much an impact on me as Multigone did, but it's another facet to AUN's unpredictable art.
-Oliver Side
VITALS:
Release:  2008
Label:  Crucial Blast
Avantgenre:  Blight Metal
Duration:  57:35
Origin:  Montreal (CA)
Official site:  http://www.myspace.com/martindumais
Review online since:  22.08.2008 / 20:24:10

TRACKLIST:
01 – Multigone
02 – Consumed By Flies
03 – Steel Skull Plain
04 – Stables
05 – Halfmoon Halfchoke
06 – Palejoy
07 – Kwelbo Krong