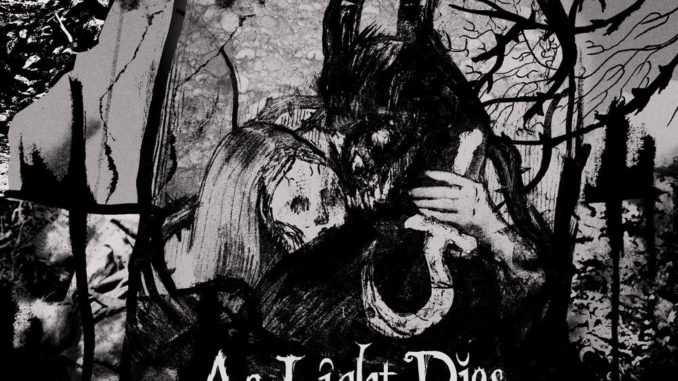 Four years following the release of their critically acclaimed and heavily experimental second full-length album Ars Subtilior from Within the Cage, Spanish avant-garde black metal horde As Light Dies return with The Love Album – Volume I. The band's latest effort sees them moving towards a more progressive and emotional sound, but one that's no less complex or intriguing.
Lyrically, The Love Album – Volume I is a concept album that explores the theme of love, grief and the tragedy that surrounds love stories, and a cruel reminder that everyone is destined to suffer day after day in many different ways. Musically, the album consists of five full songs and five interludes. This has been a strong, recurring characteristic in As Light Dies' music. This time though, the band chose to limit those interludes to short dialogues that really set the tone for the dramatic story the album tells. The main songs are some of the band's finest material, featuring outstanding avant-garde metal guitar work juxtaposed with moments of delicate, melodic singing and atmospheric sections. From "Orpheus Mourning" to "Farewell from Distant Shores" the listener encounters some very well-crafted songs in true As Light Dies fashion, which means heavy riffing, intense vocals and powerful drumming. To me, they seem to have taken a more modest approach to experimentalism this time around (although the palm muted guitar breaks are clearly a nod to modern progressive music) and this works to the band's benefit, as The Love Album – Volume I presents their most focused and mature effort to date. A huge highlight for me is Oscar Martin's vocals. Apart from his inexhaustible composing abilities, his voice is so diverse and expressive, be it infernal growls (for example, the ending of "Nemesis") or soothing clean vocals (such as the middle part of "Together as One").
All in all, The Love Album – Volume I represents a masterful amalgam of melodic, orchestral, progressive tones and harsh, intense extreme metal. This is an introspective sound that will strike many chords, emotionally moving or disturbing the listener, and offers a bleak journey through daily tragedies, inner hells, and insane situations. I'm definitely looking forward to the second volume of this paradoxical love story.
Lefteris Kefalas
VITALS:
Release:  1.10.2014
Label:  Maa Productions
Avantgenre:  Love Hurts?
Duration:  43 Minutes
Origin:  Spain
Official site:  http://www.aslightdies.com/
Review online since:  31.03.2015 / 02:10:04

TRACKLIST:
01 – We Are All Destined For Grief
02 – Orpheus Mourning
03 – Blow of Loss
04 – Together As One
05 – When Distance Becomes Real
06 – Your Wake
07 – No Pain at Sleep
08 – Nemesis
09 – Acceptance
10 – Farewell From Distant Shores