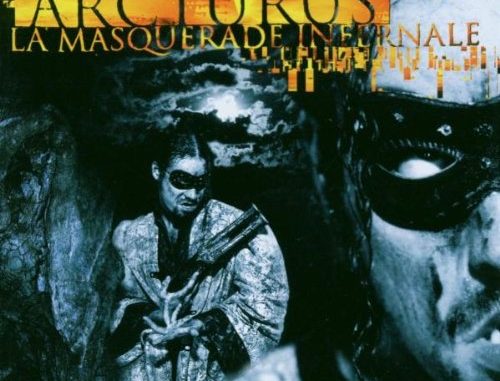 "La Maquerade Infernale" was and remains a tremendously influential album. Arcturus was largely responsible for popularizing a more theatrical strand of atmospheric metal, and "La Masquerade" was the band's defining statement, a grotesque and vaudevillian sort of music that retained a certain metallic vigor despite its art rock inclinations. Musically, it plays like a subdued, opium dazed version of the debut album, dizzying and loopy, complicated without being machinelike, trading in growls for yowls.
Each song is like its own little voyage into uncharted waters. "Master of Disguise" is convoluted prog rock with a modernist dissonance and unpredictable structure. "Ad Astra" sounds like a tango from another planet- in it Arcturus put the drone of a steam engine to good use as a hypnotic rhythm and then buries it in a lush string arrangement that builds into a tremendous otherworldly ambiance.
"The Chaos Path" is like vaudeville for perverts, with repetitive carnival music over a turgid metal riff broken by flights into quasi-oriental string music and ending in a drum n' bass break beat. The Edgar Allen Poe adaptation, "Alone," is a thunderous rock anthem with a weird twist reminiscent of Faith No More, slamming you with a catchy assortment of heavy riffs before veering into supped up epic grandeur.
The latter part of the album is slow and winding, with a stronger emphasis on atmosphere and considerably less on experimentation. It's good, but a little disappointing in light of the first two thirds, which sound like a radical manifesto, or a Borges story re-conceptualized as music, eerie inward-looking mental landscapes punctuated with monumental hard rock riffs that can seem, if only for a second, like the unfurling course of human history.
Imbued with a heavily romantic flavor, the album explores the outer shores of the gothic, with a somewhat literary take on Lucifer and the fall of man, painted over with the mad histrionics of a Grand Guignol performer. Two Arcturus vocalists, past and present appear on the album, Garm (Ulver) and Simen Hestnaes (Arcturus); Garm provides a reassuring rock flavor, a little sloppy and in your face, and Simen a high vibrato that seems to beckon at the apocalypse.
All of these factors converge in an album of startling originality. When it came out it was characterized by many a confused metal critic as pastiche ala Mr. Bungle, but Arcturus actually infuse and synthesize the sources into a single strange sound, one that straddles theatrical excess and straightforward metal purposefulness in a way that was largely unheard of at the time. Whatever one might say about it now, "La Masquerade Infernale" was an unqualified breakthrough.
-James Slone
…………………………………………………………………….
Avantgenre: Lucifer's Circus Of Avantgarde Doom Metal
How on Earth do you write a review of an album that is not only one of the most revered masterpieces of the ever so arbitrary genre of Avant-Garde Metal, but also a standing member of your own top three all-time favourite albums; a review that is fair to one of the, according to many, best records ever? I battled this question for some weeks, and realised that all I could do was to give the story from my perspective only.
I have been returning to these 45 minutes of Heaven (or was it Hell?) since I first heard the absurd and infernal merry-go-round ride that is "The Chaos Path" sometime during the first autumn of this century, this album becoming a steady companion throughout my adolescence. When reality became too dull and loathsome, there was Arcturus, transcending through spheres of astral immensity, opening gateways to esoteric and decadent wisdom (to the teenage me, at least). I remember skipping classes, wandering about the city at sundown, admiring the few 19th century buildings there are left, the snow falling thick and silent upon the empty town, the street lights colouring the white crystals velvet orange, in soft contrast to the deep blue skies. My walks always ended at the public library, for hours delving deep into the writings of the dark and mysterious I could find – Poe, Lovecraft, Blake (switching sometimes from Arcturus to Ulver), Baudelaire, Kafka, and the likes… The carnevalesque buffonery and eloquent satanic horrors of G. Wolf's lyrics were the perfect soundtrack to my pretentious escapades, howling sophisticated mockery not only at the cross, but at everyone conforming to set standards, chained by boredom and normality. I mean, to which romantic dreamer doesn't the thought of the Devil as both a mourning loner and plotting trickster appeal?
The musical mastery on this album is practically flawless. Even though flying through various styles, from blastbeats to drum'n'bass, from the organ grinder of the town fair (how menacing is not "Painting my Horror"?) to the church organist at the High Mass ("Of Nails and Sinners" keep sending shivers down my spine to this day), Arcturus never derails from the defiant spirit of the Masquerade. Carl-August Tidemann's (now in Winds) magnificent solos sweep across the nightsky, companioned by Sverd's astral keyboard manouvres. The Wolf might be accused for singing out of tune – which he certainly does – but I still consider this one of the highlights of our favourite Trickster's career; theatrical deep-end bleating, as guttural as it is untraditional. Simen Hestnæs (Borknagar, Dimmu Borgir) does his first Arcturian performance, which is also his career's zenith. Not to forget Knut M Valle and Skoll/Hugh James Stephen Mingay, who's rumbling, at points unhearable riffs create the backbone of this Infernal feast. And yeah, Hellhammer does his work swell as well. By the way, did I mention that they have crammed a cornetist, a flautist (AiwarikiaR of Ulver and <code>) and a string quartet into the studio?
La Masquerade Infernale is a revolutionary Hell draped in velvet and silvery stars, a landscape of golden masks and arabesques, with the Devil of a 1000 faces hiding behind every corner, never to reveal His true identity. In the Darkness, which is the sheep, and which is the Goat? You will never know… (and to those who possess the original Music For Nations edition; have you found the secret?)
-aVoid
VITALS:
Release:  October 1997
Label:  Music For Nations/Misanthropy
Avantgenre:  Apocalyptic Vaudeville Metal
Duration:  45:11
Origin:  Norway
Official site:  http://www.myspace.com/arcturusnorway
Review online since:  03.08.2007 / 13:42:21
TRACKLIST:
01 – Master Of Disguise
02 – Ad Astra
03 – The Chaos Path
04 – La Masquerade Infernale
05 – Alone
06 – The Throne Of Tragedy
07 – Painting My Horror
08 – Of Nails And Sinners