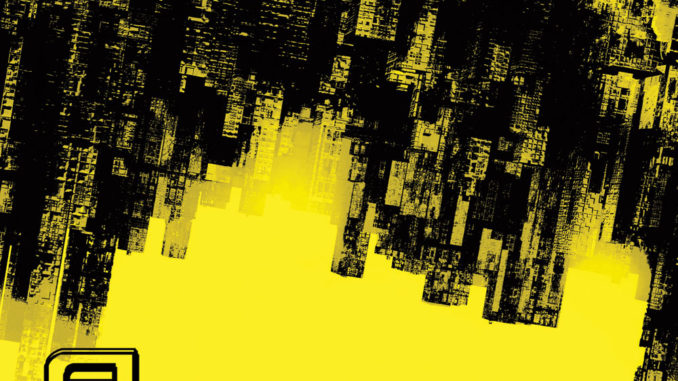 Aborym are an oddball in the sense that they live and make music just the way they fucking like: Fabban and friends are rebels, lunatics and hopefuls. 
We all know the heavy-weight history of the band (and if you don't, here's your chance to get stuck into a very dark piece of extreme music history), the mess they got involved in, and which big names they attracted within their orbit, considering they operated within the context of an uneasy epicenter, the deep south of Europe. Aborym became an unpredictable force within the avant-garde black metal scene and my hat comes off every time I come across a product from the furnaces of this now consolidated trio (made of Fabban on vox, bass, programming, keyboards; Paolo Pieri, guitars, keyboards; Bard Eithun, drums) for the barriers they pushed down, including – and more so! – when they disgust the elitists expecting something "predictably avant-garde". A classic example of their "who gives a shit" attitude was the release of Psychogrotesque, a darkly intense album gravid with social comments which had strong artistic and progressive qualities, but disappointed those who expected their experimental vein to follow the industrial route. A comment on the lines "They should listen to Thorns" stuck in my head at the time, reminding me of the hypocritical snobbism of people who forget that good music should in primis focus on freedom of expression, whichever are the tools chosen. Well, when you grow up, barriers hopefully do come down and genres blur into nothingness: only quality and content mean something. And this is something that the real agitators of the underground have been fighting for for years and years and years…
Twenty years in the trenches, smelling the shit close by, knee deep. Aborym have seen it all and have the scars to prove it. They have not been a touring band, no big bucks made from merchandise sales, no big labels throwing big money on ads (Season of Mist was just an episode, and there was hardly any publicity done): Aborym are still in it because music is their life, albeit in a different way. The way of the warriors. No, they don't come from aloof, snowy-white peaks but from the murky, decadent, corrupt pits of Roma Divina Urbs. They like their music to be permeated with real life with all its contradictions, brutality, insanity and injustice; they want to feel human by feeling angry, outraged, scared, abused. Aborym shuns the insulating, abstract concept of intellectual transcendence as escape route: there is NO fucking escape… So be ready to be burnt! Aborym are back to give us the torch to throw into the safety of our own goddamn cozy houses.
Double album: the first part features new material, the second, a heartfelt gift to the fans, presents re-recorded versions of two of their hymns, "Roma Divina Urbs" from the legendary Kali Yuga Bizarre and "Fire Walk with Us" from the homonymous album; also 3 covers of classic bands (deal with it!) such as Iron Maiden ("Hallowed Be Thy Name"), Pink Floyd ("Comfortably Numb" )and Nine Inch Nails ("Hurt") and a track written with Alberto Penzin (ex-Schizo, CO2) and the fans, "Need for Limited Loss".
Here I shall concentrate only on the new material, some of the most incandescent, sick, mind-blowing shit I have heard in a while. It's quite easy to scare and unsettle people if you are Sun o))) or Portal, but doing it when the aggression is rooted in appealing sounds and melody is, well… quite a feat. The ingredients used this time by Aborym are: plenty of electronica in all its shades (from the 70s onwards), industrial, black metal, classic metal and hints of psych-prog rock: the mix is tight and so expert that it all flows sounding perfectly smooth. Except that, slower and ambient parts aside, this work is like a long electric shock. Musically the 10 tracks have a heterogenic structure and change in mood, so we are swept into different, rollercoaster-like directions for the duration of the album which, in spite of being a hefty one, slips all over you as fast as foul-smelling oil over the white feathers of a seagull suffocating to death.
Dirty demands multiple listening sessions, as it owns the rare quality of sounding so effortless that it can easily fly past you if you blink: instead, especially if you enjoy it with headphones on, there is a lot of detail to discover and enjoy. Just scratching the surface, you will bump into breathless incursions through cold black metal epicness juxtaposed to surreal and sinister calm ("Factory of Death" and "The Day the Sun Stopped Shining"); acid and unsettling avant-garde sounds ("Face the Reptile"); a lot of ultra-dark electronica, often filthy and strident, sometimes drenched in psych prog/krautrock ("The Day the Sun…" and "Across the Universe"), cool '80s electro-goth moments ("Raped by Daddy") and juicy dance ones ("Helter Skelter"). Whether it's Atari Teenage Riot, Ozric Tentacles, Pink Floyd, Nine Inch Nails, Gary Newman or Eat Static, there is a firm footing in tradition from which the band does not trying to hide in any way. "Raped by Daddy" is by far my favorite track because, together with the heat-breaking "The Day the Sun Stopped Shining", sicne it has an emotional impact that is rarely found in metal: here I enjoy the intense black metal lashings, than I contendedly prik my ears over the drum & bass and breakbeat parts, then I sink into the most epic and magnificent, yet infinitely tragic, dark hymn to human perversion and degradation…
I do not like to draw comparisons with the earlier work of bands, as time changes perspectives, and those lucky enough to have written masterpieces (as they did) are always under scrutiny, often with unfair and unrealistic expectations. But in this case I shall venture in a couple of personal comments. Dirty is neither in the vein of Psychogrotesque or their first stunning mastrpiece released back in 1999, Kali Yuga Bizarre, which was a free-wheeling outpour of madness framed within incandescent effluvia of twistedly dark melody and full-blooded elegies that are still an inspiration to younger Italian bands such as Movimento d'Avanguardia Ermetico (even Urfaust have probably listened to "Darka Misteria" quite a lot). We are though somewhat closer to their more belligerent and equally incredible industrial outputs. But Dirty, although it blends some elements of the past, puts no focus on a particular genre, offering instead a seamless and fresh fresco of "Aborym styles", past and present and future: it is unmistakably an album of maturity. For this reason Dirty will grow on you with each listening session, finding its strength in a tight aggression that is given life by natural melodic passages and lyrics that paint Filth, Ugliness, Sickness and Evil not with abstract colors but with real blood, sweat, tears and cum. Yes, Aborym bring closer the fleshy stench of humanity. Going under the skin of this album means to get addicted to its highly alcoholic smoothness, to shiver with horror to the trippy nightmares, to feel the feverish beat of a dying breed of which we are all a guilty part of.
For more detail, please refer to the interview with founder member Fabban on this very same update.
-Mystery Flame
VITALS:
Release:  28.05.2013
Label:  Agonia
Avantgenre:  Electro/Industrial/Extreme Metal
Duration:  N/a
Origin:  Italy/Norway
Official site:  http://www.aborym.it
Review online since:  04.04.2013 / 21:04:09

TRACKLIST:
01 – Irreversible Crisis
02 -Across The Universe
03 – Dirty
04 – Bleedthrough
05 – Raped By Daddy
06 – I Don't Know
07 – The Factory Of Death
08 – Helter Skelter Youth
09 – Face The Reptile
10 – The Day The Sun Stopped Shining