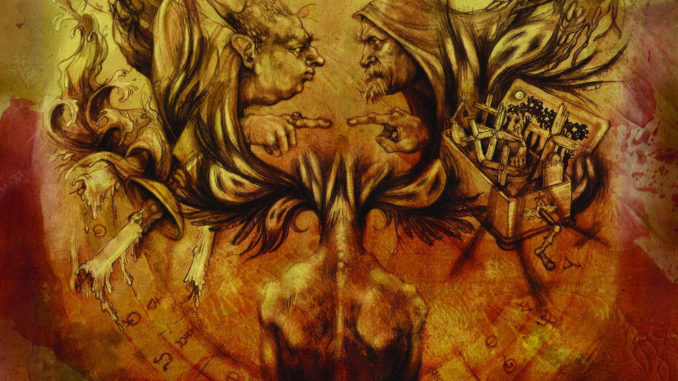 My first aural encounter with the new and eagerly awaited album by the Gentlemen's Club was through a not yet definitive version of their video for a track evocatively entitled "Gatherer of the Pure". I am a genuine fan of the band (endlessly grateful to our Thor Joakimsson for "discovering" it in the first place) and therefore fully aware of its artistic potential and human qualities, and yet I was not expecting to be moved to tears by what I saw and heard in such a powerful manner. Their previous efforts, so enchanting, full of yearning, mystery and promise, had stirred my feelings very deeply, but this was something else…
I shall not spoil it for you; suffice to say that the video is a work of art painstakingly crafted by one of the members of the Club, graphic artist Ingram Blakelock (www.ingramblakelock.co.uk). He utilized a beautiful, ancient art form originated in the Far East which became very popular in Europe during Victorian times. You can guess what I am talking about from the teaser below and the album title itself: this suggestive visual technique is part of humanity's collective consciousness, so what we have here is not just the obvious desire to connect with the exceptional mood of the Victorian epoch – so full of ingenuity, enthusiasm for the future, thirst for the exotic and the mysterious – but a powerful, timeless tool that stirs the collective imagination since our childhood.
While this video would fully deserve a hot spot in any art gallery for all to enjoy, as it goes well beyond the sensibility and taste of the underground metal fan, what about the music?
You are warned, "Gatherer of the Pure" is a dangerous song because its structure and content will reduce your heart into a pile of ashes. Here is how it builds up: a dusty record is spinning in the dark; far away gloomy factory noises overlap the sinister squeals of the doomed animals gathered at the town market; then the accordion introduces Mr. Curse's deranged, agonizing, inimitable vocals which instantly plunge me into the core of AFOS' unmistakable aural zone. Suddenly, something otherworldly creeps into this vivid slice of bygone space-time: an eerie, spellbinding melody played by a keyboard goes through my ribcage like a wave of protons, opening its way through the heart. An outpour of grippingly fast drumming and emotional guitars swirling like glowing plasma floods in, sweeping me into a new wondrous dimension where the main bewitching factors, powerfully bound together by pure talent, are Intensity, Mystery and Melody. The latter, as I would discover a little later whilst exploring the album promo, being one of the enhanced ingredient of the latest magic potion of the Yorkshire spiritual travelers.
The entire concept behind this audio-visual masterwork not only inspired the album title, but represents in its full glory the creative axis around which the entire engaging concept spins.
"Gatherer of the Pure" ends with the whispering presence of restless souls unable to abandon themselves into the arms of eternal sleep, waiting for their chance for revenge. One of AFOS' exceptional talents is that of giving flesh (or should I say an ectoplasm-like outline) to the mysterious, disturbing, ominous feeling that characterizes so many aspects of the Victorian culture. This aura has been masterfully caught in this album, each track possessing at least one peculiarity – or touch of genius – adding generously to the whole picture. Once completely immersed in the entire full-length experience, it is impossible to single out one outstanding moment; there is so much detail to explore that the more overt spine-tingling, moving sequences become stepping stones that allow the listener to survive the perilous, dark waters that one can distinctively perceive lurking in the abyss below the densely woven tale. That said, "Left Behind as Static", is one of the most stunning songs of the album, because it shows another of the big shifts within AFOS' palette: a vivid, poignant approach to a progressive rock gravid with local history. The guitars feature more prominently (and splendidly!) in this evolved sound, offering plenty of mesmerizing moments packed with equally rich and ethereal tones, flowing or meandering freely (and tastefully) into old Genesis territory ("Selling England by the Pound" era) recalling a fascinating quintessential Britishness that smells unmistakably of pagan roots. This devotion towards their heritage, remarkably, is filtered brilliantly through a fresh, modern ear, and this is made possible by the different backgrounds of each band member: this is to me signifies an outstanding success, one of the finest examples of how new, exciting creative paths can be found through harmonizing diverse approaches and experiences.
To recap, AFOS have raised their game exceptionally: the sense of history (Victorian but also pagan), the new openness towards unabashedly captivating melody, the exquisite outpourings of British-prog (which has never sounded so fresh!), are amongst the main motives that caught my immediate attention. Now I must mention once again Mr. Curse's vocals, as they put the final sigil onto the uniqueness of this stunning band, delivering once again some of the most poignant interpretations you can find, dancing on the blood-stained razor-blade in-between psychotic and heart-breaking. Delightful Katheryne and The Gentleman are also lending their vocal chords, like several ghost telling their stories through a musical séance (I am particularly looking forward to reading the lyrics!). Furthermore, Kath's evocative flute and spellbinding violin are like fleshly, blood-red flowers touchingly dotting the filthy path of stinking, foggy, dark Victorian alleys. And what about The Gentleman's keyboards, threading through the structure of the album with the metaphysical sorcery of an absinthe-fuelled spiritualist dragging his congregation into the depths of the dark and genial abyss of his mind… Also, the creative drumming and guitar-work demonstrates that these musicians not only work hard, but also listen to (and play) a lot of different styles of music, a sure way to broaden one's mind and skills!
Thanks to this eclectic and dedicated Gentlemen's Club, we have here a kind of avantgarde metal that is multi-layered, individual, and spreading across diverse artistic expressions. I cannot wait to see A Forest of Stars on stage again during their upcoming UK summer tour. And European promoters: demand these artists now or you will miss out!
www.facebook.com/aforestofstars
-Mystery Flame
VITALS:

Release:  20th July 2012
Label:  Lupus Lounge/Prophecy Productions
Avantgenre:  Victorian Avant-Prog Black Metal
Duration:  N/a
Origin:  England
Official site:  http://www.aforestofstars.co.uk
Review online since:  15.06.2012 / 19:14:56
TRACKLIST:
01 – Directionless Resurrectionist
02 – Prey Tell Of The Church Fate
03 – A Prophet For A Pound Of Flesh
04 – The Blight Of God's Acre
05 – Man's Laughter
06 – The Underside Of Eden
07 – Gatherer Of The Pure
08 – Left Behind As Static
09 – Corvus Corona (Part 1)
10 – Corvus Corona (Part 2)