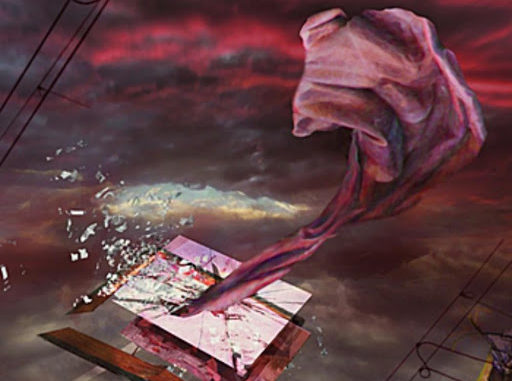 To-mera is one of those bands who have the profound ability to pick up the best their influences offer and form a great album, delicious to your ears, eyes and other scenes.
Therefore I shall present you the way of cooking the best dish in the world: the soup a la to – mera.
The ingredients are following:
1/2 kg of musical skill
1/2 kg of composing skills
knifetip of Dream Theater sound
200 g of Emperor influence
200 g of Opeth + Pain of Salvation (shaken not stirred)
500 g of complex rhythmical structures
100 g of jazzy female vocals
150 g of Debusyesque ideas
one Dilinger Escape Plan gig
The secret of building a great band lies in the last mentioned ingredient: the DEP gig where Julie Kiss and Lee Barret met. When the rest of the line-up was carefully chosen and cleaned from other musical ideas one can start recording. To start recording the Delusions album, one must add ½ kg of musical skills and 250g of complex rhymical structures to the rehearsalroom and give it a good stir so it mixes completely and forms a great rhythm section of this bad. Furthermore, add a big part of the musical skills to the keyboardist, who is one of the brightest spots of this soup…sorry…band! In order to get the great guitars one must add the rest of complex rhythmical structures. When talking about the vocals one must realize that these are not the standard female vocals you can find in various gothic/prog bands, as Julie's vocals range from some very powerful passages to warm colored jazzy intermezzos.
A standard progressive metal album?! Not at all, mon ami. But why?! The taste this album leaves after consummation isn't the one of the typical contemporary Dream Theater albums: of shredding and boredom, but the one of technicality and atmosphere. Not just the mentioned, but the variety of influences found on this release range from Emperoric riffs, to free jazz (!!!) atmospheres.
It's very hard to choose a highlight of this album, but I would dare to point to "A Sorrow to Kill", a very melancholic, but powerful track which will knock you off your feet.
For the best listening of this album I would propose a Bang&Olufsen soundsystem, in lack of witch you can use any good old Japanese sound devices, or you could experiment with a surround system.
Listen loud, inhale the music, exhale perfection!
– Ulv
VITALS:
Release:  2008
Label:  Candlelight
Avantgenre:  Prog Jazz Perfectionism
Duration:  01:02:04
Origin:  UK
Official site:  http://www.to-mera.com/
Review online since:  29.03.2008 / 12:21:57
TRACKLIST:
01 – The Lie
02 – Mirage
03 – The Glory Of A New Day
04 – Inside The Hourglass
05 – A Sorrow To Kill
06 – Asylum
07 – Fallen From Grace
08 – Temptation