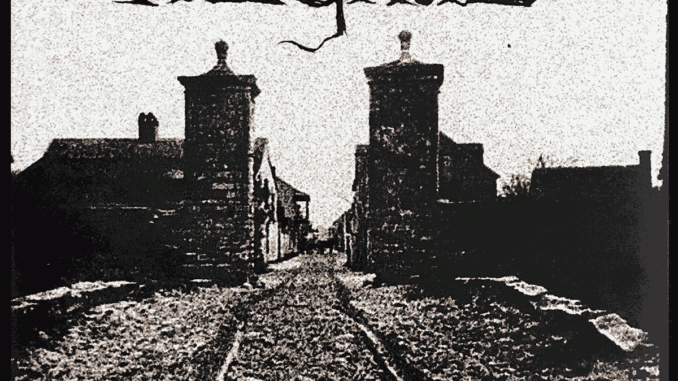 Grey heavens, no light shed. Down pours a heavy rain. Winds blow, and all that is heard is an acoustic guitar in the distance. "Ire". Then, a shift of scenery. A sudden stillness. A snare ostinato accompanied by a bass-line similarly repetitive. Hovering above is a delayed guitar, churning out noises akin to Sonic Youth and Joy Division, occasionally forming a blackened tremolo only to recede back into the cluster. In the distance floats Ed Kunakemakorn dissonantly, between the vocal clouds of Ian Curtis and J. Transit of In The Woods… Then, percussions are released turning the monotonous almost hypnotic surge closer to a thundering Neurosis/Isis rumble. Like a distant storm approaching you, standing all alone on a vast field, gazing at the empty unforgiving grey skies.
That is what the first thirteen minutes of San Francisco-based quartet The Gault's only release sounds like. The Gault was formed in 1998 and recorded Even As All Before Us in 1999, but it wasn't released until 2005, upon which the band called it a day. It was only released in 1.000 copies, making this opus a collector's item with quite an underground cult status. Which it deserves. The Gault was (I suppose) led by guitarist John Gossard, who previously led even more cult black metal band WEAKLING, today residing in the towering funeral doom band ASUNDER, and a number of lesser known bands. The rhythm section of the band is today found in Amber Asylum, and monumental drummer Sarah Weiner was also in Weakling. Quite a prolific band, though it is unfortunate that this seems to be Kunakemakorn's only musical appearance.
The feeling of vast fields and cold grey skies is carried throughout these 73 minutes, the vertiginous vast lands of latter day Earth, though derived of the melancholic warmth of the drone monarchs turned into a nightmarish labyrinth without walls and without exit. Grey skies and lifeless soil as far as the eye can reach. The angst-laden drive of Joy Division, early Swans (though organic) and a depressed The Cure, combined with a black metal mindset inherited through Gossard's musical past into the sense of evolving dissonance, creating a droning penetrable wall of resonating anxiety and hopeless cold, devoid of romantic melancholy. The repetitive lines of bassist Lorraine Rath reinforce a sense of 80's gothic rock, especially with the often marching beats of Weiner. Found here is also a sense of melodic harmony, which might be rather upsetting for less emotionally stable listeners, almost reminiscent of the guitar work of In The Woods… on Omnio, though less symphonic. A song like "Country Road, Six Miles In" takes a different turn, a bit more murky and mysterious tonality, introducing Rath's haunting voice, luring the listener into the darkness. The howls of Kunakemakorn and Rath's searing beauty. The title betrays the feeling of the song completely, conjuring images of long since abandoned cabins rotting in the deep forests of New England, forgotten gardens overgrown by weeds; a place long since devoid of human activities. Saddening.
Even As All Before Us is a demanding listen. The track length ranges from 8.14 to 14.17 (not counting the 3 minute intro), and many songs don't evolve into their true shape until halfway through. It takes time to get through, far more than the physical length of the album itself. Don't expect to remember that much after the first time you reach the disturbing end – if you do at all. One could easily remove three tracks without losing the essence of the album, though it would be incomplete. The individual songs are not that important, they are more or less variations on the specific feeling described above. Vast fields and grey skies and complete desolation in a surging mass of beautiful negativity. That this masterpiece hasn't reached a wider audience is ridiculous, and it should be re-released by, say, HydraHead of Southern Lord. If you find it anywhere, buy it.
– aVoid
VITALS:
Release:  2005
Label:  Flood The Earth / Amortout Productions
Avantgenre:  Bleak Epic Doom Surge
Duration:  1:13:33
Origin:  USA
Official site:  http://www.myspace.com/thegault
Review online since:  08.02.2008 / 22:52:51
TRACKLIST:
1. Ire (intro)
2. Obliscene
3. Bright White Blind
4. Country Road, Six Miles In
5. Outer Dark
6. The Shore Becomes The Enemy
7. Hour Before Dawn