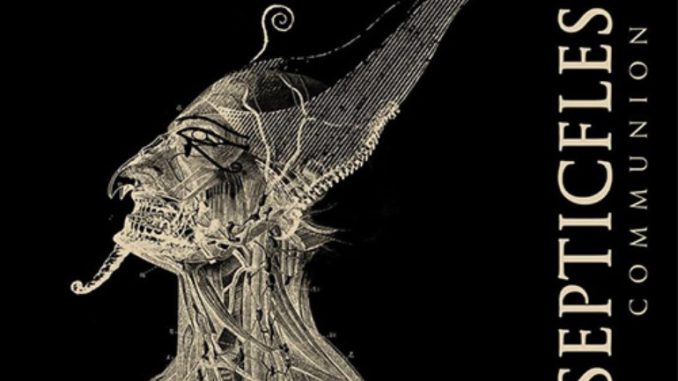 SepticFlesh team up with the Prague Philharmonic for "Communion," replacing what would have been keyboard parts with real orchestration and choral arrangements. As usual, their songs deal with mystical experience, mythology and ancient history, covering terrain as diverse as HP Lovecraft, the fall of Persepolis at the hands of one Alexander the Great, and Egyptian gods. Deft and catchy, "Communion" is perhaps the most well-balanced album the band has ever released.
With an orchestra in tow and a huge production courtesy Studio Fredman, the music is unusually bombastic for SepticFlesh. The orchestra isn't used here to artificially inject beauty into the sound, but rather to attack the listener with violent forcefulness or to haunt them with an uneasy Hammer Horror atmosphere. The orchestra's sound is rhythmic and hard driving, sometimes giving way to creepy quasi-oriental melodies, particularly on "Persepolis," which sounds, appropriately, like a horror film set in ancient Persia.
While the orchestration is competent and adds a little Old Testament/Old Hollywood atmosphere to the more brutal death metal songs, I tend to favor the songs that use less forceful orchestration and hew closer to the melodic side of the SepticFlesh sound, like "Annubis," "Sunlight Moonlight," and "Narcissus," where the big production greatly complements the goth rock harmonies, heavy metal rhythms and Spiros Antoniou's high voice.
These songs are as good as any the band has ever written and offer an effective counterbalance to the soundtrack death metal of the other songs. I have to give the band credit for knowing when and how to employ the full orchestra without overpowering their more subtle material. SepticFlesh is operating at the height of professionalism—they have years of experience and it shows; they never forfeit catchiness, nor shirk brutality. And the best part? Their songs are actually songs: short, sweet and to the point.
"Communion" is the best SepticFlesh album since "The Ophidian Wheel." An album is only as good as its songs, and despite some occasional heavy handedness from the orchestra, every song on "Communion" is pretty damn good: huge, cinematic, and on occasion, eerily transcendent.
-James Slone
VITALS:
Release:  2008
Label:  Season Of Mist
Avantgenre:  Orchestral Orientalism
Duration:  38:08
Origin:  Greece
Official site:  http://www.myspace.com/septicfleshband
Review online since:  27.04.2008 / 05:46:30
TRACKLIST:
01 – Lovecraft's Death
02 – Annubis
03 – Communion
04 – Babel's Gate
05 – We The Gods
06 – Sunlight Moonlight
07 – Persepolis
08 – Sangreal
09 – Narcissus