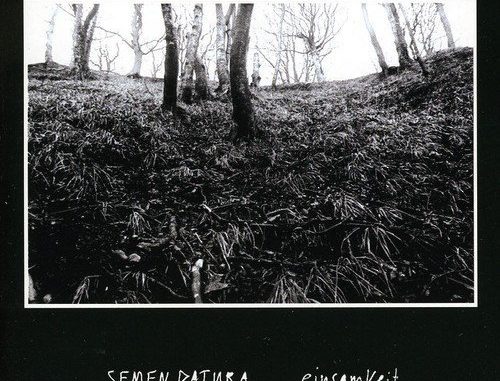 In one of my reviews for metal.de (click here to read said (German) review) I jokingly connected the term "open minded" with excessive use of drugs – and I had no idea this statement would one day come back and bite me in the ass. I cannot – of course – say anything about the extent of mind-altering substances on the premises of SEMEN DATURA, the band name's meaning (yea) does nevertheless suggest certain presumptions. Interestingly enough, "Einsamkeit" – being the third album from this three-piece band from the Erzgebirge – could well be called "open minded". [In the metal.de-version I gave a hint at the rating, taking into account my musical preferences – here at AGM.com there's no point, not only because we don't rate albums, but also because this is but my second contribution]
"Einsamkeit", SEMEN DATURA's first cooperation with ATMF from Italy, presents part two of a trilogy dealing with the myth of Vineta which is often regarded as Baltic equivalent to the myth of Atlantis and actually bears some resemblances. Hence, its key sentence, "Vineta, Vineta, du rieke Stadt, Vineta sall untergahn, wieldeß se het väl Böses dahn." (before you start thinking that German always sounds like that: This is German vernacular. The sentence basically translates to "Vineta, Vineta, rich city, Vineta shall perish, for it did evil.") can be found in the song "Vineta (unplugged)". The following songs "Rieke Stadt" and "Arkona" (being a town near the supposed location of Vineta) head in a similar direction.
From a musical point of view, Conrath von Auerswalde and his comrades unequivocally play Black Metal, nevertheless they think extensively – and successfully, which is not self-evident – outside their own box. This goes for both the uncommon, yet very moving harmonic structures and the usage of synthetic timbres and distortion effects on the vocals. Drummer Axt play with an enjoyable jazzy style which works well with the guitars, especially the cautious, almost doomy beginning of "Mental Outlaw" benefits from this. Nevertheless Axt manages to shine at playing zippy blastbeats, accompanied by raging lead guitars in proper style. The music on "Einsamkeit" is, from start to finish – the guitars, the gorgeously creaking bass, the stylish drumming, the synthesizers and the vocals – variable, multi-faceted and dynamic. Terrific!
There is just one downer for me: Not every song can hold the level of "Unter bleigrauen Wolkenlasten", the aforementioned "Mental Outlaw" and the amazing title song. "Marschbefehl" (movement order), for example, does not appeal to me and hence seems somehow inappropriate. If SEMEN DATURA succeed to write songs exclusively in the first three examples' league, the avant-garde Black Metal community may expect something truly magnificent.
written and translated by Falk || metal.de
The original review in German can be found here.
-metal.de
VITALS: 
Release:  October 2009
Label:  ATMF
Avantgenre:  Black Angel's Trumpet Metal
Duration:  47:37
Origin:  Germany
Official site:  http://www.semendatura.com
Review online since:  17.06.2010 / 09:46:29
TRACKLIST:
01 – Fons Et Origo
02 – Unter Bleigrauen Wolkenlasten
03 – Einsamkeit
04 – Mental Outlaw
05 – Marschbefehl
06 – Psychokrieg
07 – Witwenmacher
08 – Vineta (unplugged)
09 – Rieke Stadt
10 – Arkona