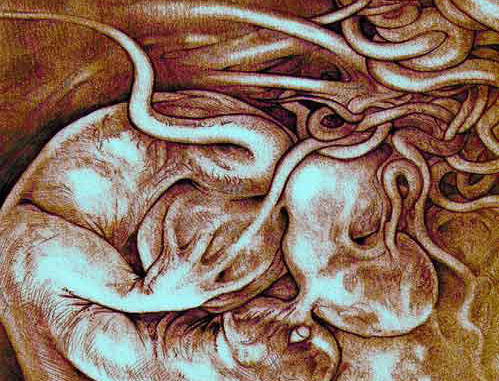 Commence Rat-King-Are-Awesome special part two. If you are sensible, you will have probably read the first part of the special already and will know my views on Rat King's first full-length "The Plague Of Hamelin". If not, then read it. Now. Done? Good.
Although similar in many respects to their debut, Rat King seem to have pushed their music in a slightly different direction here. The scope in "Larva" seems larger; more varied instrumental use, very well done vocals (not in the traditional sense, the voice here is used as another instrument) and a larger contrast in dynamics. The sound on the album is more drum based, giving it a martial feel and allowing for some very impressive displays of writing for percussion, featuring some of the best usage of blast beats I've heard in a long time.
Again, Rat King decided to make this release a concept album; this time basing it on a man's dreams and their effects on his being. It is a very difficult concept to pull of without lyrics or visuals, but I feel that Rat King have done a good job of pulling it off on their second effort. The appropriately named titles give subtle hints to a timeline and help give the music the structure it needs to depict its desired scene.
As mentioned before, the band have expanded their instrumental repertoire here, with effective use of strings (both arco and pizzicato), intelligent piano placement and generally skillful songwriting. This makes their imagery even stronger and more varied than in their previous release.
While both of Rat King's full-length releases are fantastically unique and profound, I would place Larva slightly over The Plague Of Hamelin in terms of personal enjoyment. The band's latest release has that extra level of maturity and class which sets it apart from most other bands out there at the moment. That is not to say don't buy Plague Of Hamelin, as both albums make for independent experiences, and both are well worth the money. Rat King are currently signed to Road Crew Records, and both albums are available to buy from their store, here.
-Simon Brand
VITALS:
Release:  2009
Label:  Roadcrew Records
Avantgenre:  Experimental Industrial Ambient
Duration:  35:18
Origin:  India
Official site:  http://www.gimmesound.com/ratking/index.cfm
Review online since:  14.10.2009 / 01:35:30
TRACKLIST:
01 – Egg
02 – Hour Of The World
03 – The Duel
04 – The Wake
05 – Spiracle
06 – For Absent Gods
07 – Tranquility Lane
08 – Smorgasbord
09 – Vapour