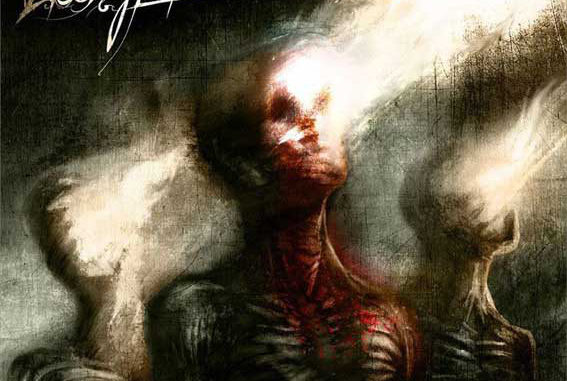 Indeed, it is a dark and dreary night, at the end of a year trembling with turbulent violence, disillusion, confusion and anger. Corruption, rebellion, neglect, distrust, fear. The forlorn ramblings of EBONYLAKE could not be a better complement to the chaotic wreck our global society is throwing itself into.
This English duo was recently resurrected, leaving behind the remaining quintet of musicians who made up EBONYLAKE's first, and besides this their only, 1999 album "On the Eve of the Grimly Inventive". About that album, I penned this paragraph:
"Quite erudite and technically accomplished, the arrangements tower and cascade to the skies like some Byronesque stormwind at sunset, unsuspectingly halting and recommencing the beats, twisting ecstatically, feverishly in a dark emerald labyrinth; the hands of the beloved deceased fluttering across the monochrome keys of the piano, the frailty of the pale aristocrat's decrepit mind made music, melancholy beautiful and eerily whispering. So much is happening, so many quirks and details, that you miss half of them, but you can still orientate yourself within; you're not completely lost and confused, only held at an arm's length from what is (might) be happening. Shadowy murmurs. As it should be."
And, quite frankly, in many ways this description still stands valid today one/twelve years later. Dramatic, cinematic and rambunctious, symphonic and nightmarish. These six newly composed pieces twist and turn, from turbulent and atonal chaos into minimalistic valleys of ghostlike repetitions, at times ridding themselves of their metallic vestures leaving behind only the ghastly shades of a plague-swept orchestra. Some listeners may be too terrified by the haunting vistas, or simply put off by the synthetic percussion or formless structures, but…. this is an outstanding piece of dark music. Theatrical of course, Gothic you might say (it is, you might say, one of the most Gothic – in the true literary sense of the word – bands you have heard; this is what echoed the halls of Ortranto and Usher)… filled with logical and musical ellipses, it rips you out of your complacent slumber into a veritable storm of musics. "Licking at the Nesting's of Young Fledglings" is most of all quite a horrifying ride! Surreal metallic madness…
There are no painted faces, elaborate masks or simple postures here. The poetry accompanying each song – not the lyrics, for some inextricable reason, but literal illustrations to each work – is eerily suggestive of a madness poking its beak through the fragile egg shells of reality. Note that, as mentioned, of the ten tracks, only the first six are new in any way, the remainder lifted from the constellations first offering, the previously unreleased "As ghosts we dance in thrashing seas" 1997 demo – an astute, sombre and astounding piece of avant-garde metal music that truly makes you wonder why the bloody hell this band isn't heralded as one of the great pioneers in this genre. Lost in a flood of third generation vampyre wannabees? Unfortunately, either way, but I sincerely hope that this obscurity will change with "In Swathes Of Brooding Light", truly one of the highlights of contemporary truly avant-garde metal.
-aVoid

VITALS:
Release:  October 2011
Label:  Les Acteurs De L'ombre
Avantgenre:  Orchestral Manoeuvers In The Dark
Duration:  1:05:38
Origin:  UK
Official site:  http://www.myspace.com/ebonylakeofficialuk
Review online since:  15.12.2011 / 09:25:28

TRACKLIST:
1. And From The Seas Of Sickening Things
2. I Painted The Suicide Of Neptune
3. The Curious Cave Of Deformities
4. In Swathes Of Brooding Light Skeletal Birds Scratch At Broken Windows
5. Human Mannequin Puppeteer
6. Licking At The Nesting's Of Young Fledglings
(As Ghosts We Dance In Thrashing Seas)
7. Amerthyst Lung Concerto
8. Within Deepest Red (the Opening Of…)
9. The Theory Of Sexual Carvings
10. A Voice In The Piano