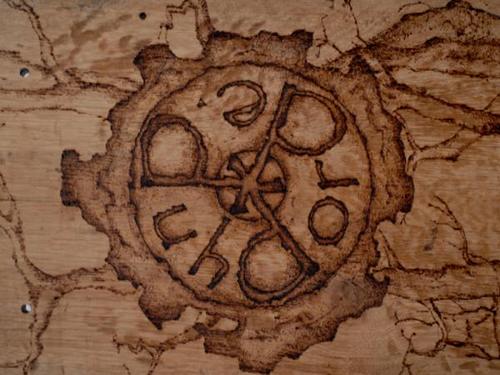 Hupogrammos and Sol Faur chose to carry on the stellar work initiated with Negura Bunget under a very evocative name: DorDeDuh. I find this term, made of two archaic Romanian words loosely translating as "yearning of the spirit", to be truly magical. Pronounced in a mellow British or Latin accent it sounds like cosmic music from the depths of the universe, while uttering it in a phonetically harsher language I imagine it to be more akin to a powerful, ancestral spell. Whatever the option, DorDeDuh are indeed back to spin us into the mysteries of creation and their first single, one of the most anticipated releases within the more progressive quarters of the black metal scene, has long cast its spell on me. 
Artfully packaged as a vinyl limited edition, the release comprises of two over six minute long tracks which are meant to bridge the passage from what was then to what will be.

Like pure water passing under a bridge, "Cumpat" begins as an ethereal instrumental sailing through the impenetrable mists floating over the ephemeral river of life, flowing steadily towards DorDeDuh's enchanted abode, a contemporary Avalon built on the noblest of human values. When we touch land we are met head-on by that uniquely majestic, dark richness and depth of sound and emotion we became accustomed to with Negura Bunget, delivered here – daresay – with enhanced passion and grandness of spirit. But this is in fact intense, black metal-rooted, progressive rock of the highest standard, made especially poignant by vivid archaic atmospheres that resound mightily through each of our body-cells. 
The densely obscure, eerily cinematic mood at the end of the first track contrasts greatly with the scintillating melodic grand-opening of the second cut, "Zuh – Cu tunetur muntilor". Soon this marvelous track slides like towering cumulonimbus against the vastness of a blackened sky, pushed by tempestuous winds across that infinite mystery that is at the core of the human condition. Stunning!
Musically speaking, although both tracks undoubtedly feel spiritually connected to that masterpiece that is "Om", I can already hear some important changes: first and foremost, the percussive work has expanded enormously, affecting not only the arrangements (more complex and dynamic) but the general feeling of the compositions. For the live shows there are now two drummers carrying the band's flow of energy and vital pulse: on this release, renowned prog rock session man Sergio Ponti – whom fans of avant-garde black metal will remember for his work with Ephel Duath – appears as a guest. As well as the musicianship in general, Hupogrammos' vocals have also vastly improved, while they keep stirring the listener's soul at every sung or screamed word. 
The new phase of these artists' journey promises exhilarating, deeply rewarding experiences to share in a celebration of life in its most esoteric, all-encompassing of meanings. If, like yours truly, you have never stopped playing "Om" on a daily basis since its jaw-dropping release, this single will be like finding the proverbial oasis in the middle of the desert! DorDeDuh, please give us the full-length soon: the world needs your consciousness-expanding music right now.

-Mystery Flame

VITALS: 

Release:  September 2010
Label:  Lupus Lounge
Avantgenre:  Consciousness-expanding Avant-garde Black Metal Beautifulness
Duration:  13:08
Origin:  Romania
Official site:  http://www.myspace.com/officialdordeduh
Review online since:  23.11.2010 / 11:49:16

TRACKLIST:
01 – Zuh – Cu Tunetur Muntilor (6:40)
02 – Cumpat (6:28)