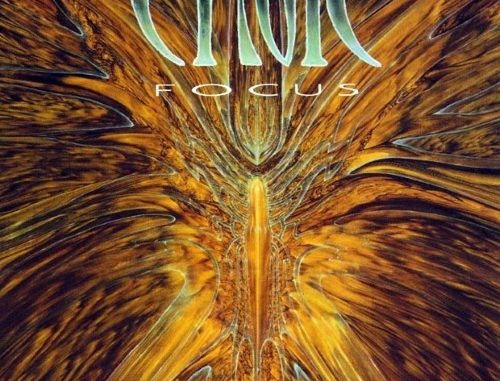 "Focus" (1993) is a kind of milestone for extreme metal. If you wanted ten metal albums placed in a time capsule of Greatest Moments in Metal History, Cynic would be a no-brainer. This website specializes in the experimental, the cutting edge, and the outright weird. Cynic certainly qualifies for inclusion, being one of the earliest examples of a metal band that embraced all three traits with equal zeal. Calling "Focus" progressive metal is too limiting. It spawned a whole new subgenre: extreme metal fusion. Jazz metal bands like Ephel Duath, as exciting and innovative as they are, simply would not exist without Cynic's revolutionary work here.
After circulating tapes as a technical death metal band in the Floridian mold, Cynic signed to Roadrunner and dropped "Focus" on the unsuspecting world. I remember hearing it when it came out and being absolutely floored. Here was this insanely intense combination of unremitting death metal, otherworldly jazz fusion, and weird New Age ambiance (Robert Venosa, the surrealist painter, created the eye-catching cover), that screamed excess, but somehow avoided disaster by being inexplicably good.
Even with the oddball vocoder chanting that would have ruined a lesser band, the musicianship carries the day. Jason Gobel and Paul Masvidal's guitar playing alternates between jagged death metal thrashing and delicately arranged synth guitar lines that sound like ocean tides and light waves riding on ether. Sean Malone's punchy fusion bass operates with a mind of its own; conversing with Sean Reinert's stop-on-a-dime percussion, but always with its own voice. All these players, each with their own unique take on the material, somehow mix it together into tight little three minute songs.
Cynic sounds like a train running off its tracks into the ocean and instead of sinking somehow floats on the surface. OK, that simile sucks, but it's the best I could come up with to describe this impossibly fluid music, which really does sound like death metal careening into spiritual bliss, a kind of new age Morbid Angel that put away the Cthulhu in favor of Indian philosophy and ecological spiritualism. If that sounds horrible it's because it should. And yet it isn't. By tapping into something "positive" and utopian, Cynic turned death metal on its head and opened up the stubborn genre to new areas for exploration.
Even today, "Focus" is an eccentric piece of work, reaching far and wide for sounds that defy every expectation death metal comes prepackaged with. Cynic have recently reformed for a reunion tour, and prior to that re-released "Focus" with what remains of their would-be follow up, "Portal." If they decide to record new material there is little doubt that it will be good by any standard. But their work on "Focus" was a radical breakthrough, something new and exciting that changed the rules of the game, a true one-off metal classic.
-James Slone

VITALS:
Release:  1993, 2004
Label:  Roadrunner
Avantgenre:  Utopian Fusion
Duration:  Reissue – 72:31
Origin:  United States
Official site:  None
Review online since:  27.07.2007 / 23:27:18

TRACKLIST:
01 – Veil Of Maya
02 – Celestial Voyage
03 – The Eagle Nature
04 – Sentiment
05 – I'm But A Wave To…
06 – Uroboric Forms
07 – Textures
08 – How Could I?
Bonus Tracks:
09 – Veil Of Maya (2004 Remix)
10 – I'm But A Wave To… (2004 Remix)
11 – How Could I (2004 Remix)
12 – Cosmos
13 – The Circle's Gone
14 – Endless Endeavors