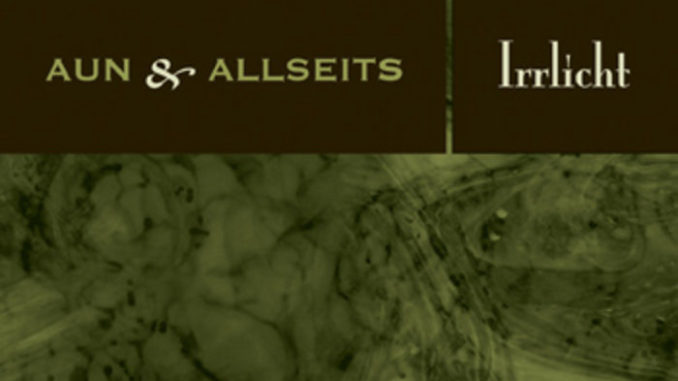 Irrlicht translates to the mysterious folklore entity will-o'-the-wisp, feu follet in French, from the Latin ignis fatuus, nowadays also called ball lightning by plasma researchers in Israel who supposedly have reproduced the phenomenon with a microwave drill. These flickerings are even seen as "ghostly lights" of some sort. Look out for "bioluminescence" as it's somehow related. Now keep in mind that this was an introduction to what I'm going to take into consideration when describing AUN & ALLSEITS.
After the delightfully monstruous affair Multigone, Martin Dumais (aka AUN), this time in the well-known company of German organic dronist Nina Kernicke (aka ALLSEITS), is back dwelling into the strange modulations of low-key minimalism and spatial exploration. Guitars, electronics, harmonica and voice, that's all these two adventurers use as means to propagate pure magick. For the records, Mrs. Kernicke has also worked and collaborated in the past with the cult German duo of Troum, whom Drone Records label will be releasing a new 7″ by AUN this winter, just like inversely, Cyclic Law Records, a respected dark ambient label established in Montreal, announced the upcoming apparition of the first ALLSEITS full-lenght album. That's how much music sometimes can be considered as creative and dynamic cosmopolitanism at its best.
As for the album we're slowly getting into, first track Irrlicht opens up its musical landscape in a somptuous, airy-vast breeze. By that I mean that when you fully concentrate yourself into the floating frequencies, it sounds like something is breathing you inside out. It better be said right away; there's "not much" to hold on to regarding concrete objets of sound, as most of the material is easily passed through. Volatile, high-flown, ethereal, imponderable, it's like air, or light, or clouds, or energy: you can feel it inside, though holding its tridimensionality with your hands is impossible. Often Eyes is more harmonious, or at least does it incline towards a more tangible harmony. Elegently quivering and fluctuating in spirited, murky waves, it slowly brings you over its liquid cadence. In fact, Eric Mattson's cover, the way I see it, exquisitely represents this alien/elastic watery theme.
The booklet informs us that Mrs. Kernicke plays harmonica, and the two last songs, existing under the names of Harmonica and Harmonica II, sort of share some similarities with that instrument, but only once it's been slowed down, deconstructed, drawn out and spatially elongated into its own infinity. While both compositions, especially the latter, contain Irrlicht's darkest, shadiest, most tenebrous elements, they also gradually come upon a grandiose relief of their everlasting building-up tension at the album's end. The structure of the crust, so to speak, which is crackling on all sides, generates heated lava bubbles upon the marshes where AUN & ALLSEITS are invigorating wave lightnings. And these sounds leave you slumbering somewhere around your mind canyons, out of reach, back to a state of vibration and weightlesness.
-Oliver Side
VITALS:
Release:  2008
Label:  Oral Records
Avantgenre:  Bioluminescent Space Drone
Duration:  45:34
Origin:  Montreal (CA) & Bremen (Germany)
Official site:  http://www.myspace.com/martindumais
Review online since:  29.09.2008 / 22:19:35
TRACKLIST:
01 – Irrlicht
02 – Often Eyes
03 – Harmonica
04 – Harmonica II